interviews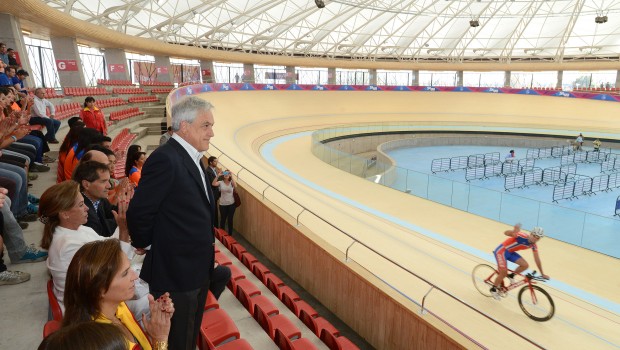 Published on March 5th, 2014 | by Daniel Boyle
1
Chile Gears Up for South American Games
Sport/Life talked with Rodrigo Eyzaguirre, head of press for the Santiago 2014 South American Games about preparations and plans for the Odesur.
The interview will be published in two parts in the coming days.
We're one week out from the Games, how are preparations?
We are doing very well. There are always some details to resolve in regards to the organization and unforeseen issues. Five days ago we received the Venezuelan delegation which pushed us to adjust some details. Some countries say that they will send one tonne and we receive four. These are things that need to be adjusted. As you can see we are doing some work on buildings, We would like it if everything was ready a couple of days ago, but well, some of the inconveniences are understandable in a country which is not used to host. That has to do with a lack of a sporting culture here. So we are running to have everything ready.
People have talked about a lack of sporting culture in Chile. How can the Games change this?
The Games are going to establish a milestone. It is going to depend on the country. It is like a relay race. It will depend on who and how the baton will be passed. If the baton falls it fails. I believe that these games are top class. This is the most important sports event that Chile has had since the country organised the soccer World Cup in 1962. There are more registered sportspeople (3700) than in Sochi (2900), we believe that with all this hard work we can achieve a real transformation. First with our policy to provide free tickets (almost all of them). So we hope the people see different sports and familiarise themselves with them apart from the ones shown on television.
This is the first point, the other one relates to the new facilities that have been constructed and are going to help to create and support new athletes. We can help contribute to this and we want people to go and use all the various facilities. However, if the facilities are not taken advantage of, it's related to the lack of sporting culture. We hope to break the grip of football and tennis in this country and emulate what was doing in Colombia after Medellin 2010.
What are your goals for the Games?
My goal personally, in the area of press and communications, is that journalists have all that is required to do a good job. We have good press centres in all the facilities. This one is the biggest one (National Stadium). We are also not used to having these big press centres. My target is that all the press, especially the international press, have all the access they need to do the best possible job in the best possible way and they can communicate their message to whoever they want. The fact is, in this country we are not accustomed to doing sports. This is the first time we've done a big level sport event.
What's the relationship like between the Games and the press?
We have not had relationship problems, but clearly we would have liked that they had given us more coverage then they have given to us up to this date. It is difficult to compete with the football, we try to promote the games, help with press conferences, sometimes they cover it and sometimes they do not. We believe that the coverage has increased lately and this helps to increase people's interest. Coverage will increase in the last week and people will be more enthusiastic about the games. 
For the international press, we are going to have information in Spanish with translation in English and Portuguese for those who need it. If they need a brief 'note' translated we will offer it.
Who are the favourites?
Kristel Köbrich in 800, 1500 and open water, Tomás González in Gymnastics and Francisca Crovetto in skeet shooting. In terms of international visitors, we are lucky. We are lucky that several are going to come. I believe that the best is Arthur Zanetti, who is Brazilian and won gold on the rings in London 2012. He ratified his victory in the gymnastics World Championships last year in Belgium.
There are some athletes missing from the games, such as Denisse Van Lamoen, Christian Garín, possibly Felipe Miranda, how does this affect the publicity for the Games?
The most attractive athletes in terms of communication are Kristel y Tomas González. There would be a huge effect if they were to miss the games. They are still the most popular in terms of press coverage. It's disappointing that Denisse is out, she was almost a certainty to win a medal.
If Santiago bids for the Pan American Games again, how can the Odesur be used as an example?
There are two parts to this. First we will use the facilities constructed for the ODESUR games. We have made huge strides in this area and this will be the focus of our presentation if we were to bid in 2013. This part is accomplished. The second part is we need to get people to the stadiums. If people turn up to watch the ODESUR games in their droves this would be excellent backing from a cultural perspective showing that people turn up and support sports other than football. We could then think about a serious bid for the Pan-American Games in 2023 or 2027. If we can't fill the stadiums for the ODESUR games what will happen in the Pan-American games where there are so many more disciplines? I am certain there will be a lot of support from the people where many will be surprised at the massive turn outs to all the stadiums.
Translation by Carola Roa. More information can be found on the Santiago 2014 website. Tickets, many for free, can be booked on Ticketek.