Footbag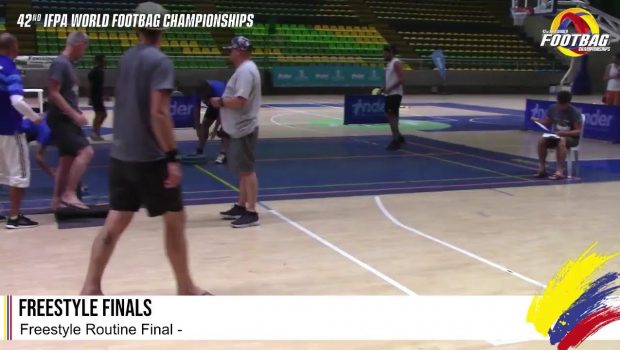 Published on September 1st, 2023 | by Daniel Boyle
0
Footbag Makes Headlines in Colombia
The 2023 World Footbag Championships were held in Medellin, Colombia. This was the first time South America had hosted the event.
Players from all around the world arrived to compete in freestyle and net events. Hometown heroes Sebastian Ceballos and Brayan Bosa took home gold medals in freestyle, while a number of Venezuelan players had strong results in net events.
In the Doubles Freestyle event, Scott Davidson and Tuan Vu were throwing back the clock with some impressive timed moves.
The Medellin media lapped up the action, with footbag appearing across a number of publications.
Great writeup on @FootbagMedellin player Sebastian Ceballos. https://t.co/Y7cglOJU5d

— footbag (@footbag) August 7, 2023
Amazing job by @footbagmedellin – so much coverage of the World Footbag Championships in the media. #footbag #fuchi #hackysack https://t.co/uT48Qflf1H

— footbag (@footbag) August 7, 2023
The future of #footbag was present at the World Footbag Championships in Medellin, Colombia. 🇨🇴 https://t.co/MfT4d5zE86

— footbag (@footbag) August 2, 2023
Brayan Bosa showing off his #footbag skills and medals from World Footbag Championships on ArribaBogota @CityNoticiasTv https://t.co/ge3Kqjfsf1

— footbag (@footbag) August 18, 2023
The El Colombiano publication had footbag on the front page and had some great photos of the action throughout the tournament. You can see some further media attention and headlines in this thread.
The publications highlighted the players coming from many different countries and gave some explanations of how to play the game.
The full results of the tournament can be found on footbag.org.
Venezuelan athletes were highlight for their efforts in the net events in Correo del Orinoco publication. The article gave a detailed history of the sport in Venezuela, including some international guests over the years and some previous results at earlier World Championships.
Throughout the tournament, footbag made a number of headlines, showing potential for further building of the sport in South America. The support of government organisations such as INDER gave a memorable event for the South American players and those who visited.