Freestyle Football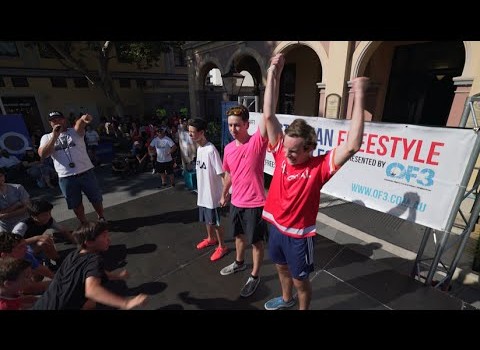 Published on April 6th, 2016 | by Daniel Boyle
1
2016 Australian Freestyle Football Titles – Video
The 2016 Australian Freestyle Football Titles were held in the heart of Parramatta, with Dylan Stipack taking victory. 2015 champ Chris Beavon put together a clip of the events of the day.
A snapshot of the growing Australian freestyle football scene at the 2016 Australian Titles in Parramatta. Shot, edited and directed by Chris Beavon. www.Instagram.com/bevsfreestyle www.chrisbeavon.com Event organised by the Oceania Freestyle Football Federation www.of3.com.au
A hot day in Parramatta saw guest judge Daniel Dennehy raise the arm of Dylan Stipack, who edged past top qualifier Jordan Morrison in a close battle. The crown was vacant after Beavon's retirement from competition following the 2015 titles in Adelaide.
Morrison went home with a match ball, as did the surprise packet of the tournament, Wollongong's Tom Kentta. After reaching the semi-finals in his first tournament, Kentta was awarded the "best newbie" prize, having defeated Zac Roberts in the upset of the tournament.
The event also saw the return of Curtis Maher to the competitive scene after a number of years away from tournaments. He was unable to defeat Stipack on his run to the final.
The tournament was made possible thanks to the Oceania Freestyle Football Federation, Parramatta City Council, Western Sydney Wanderers and Railway Square YHA. The event also allowed players to earn points in the hope of qualifying for the F3 World Tour, which will have events this year in Calgary, Shanghai and Melbourne.