Rugby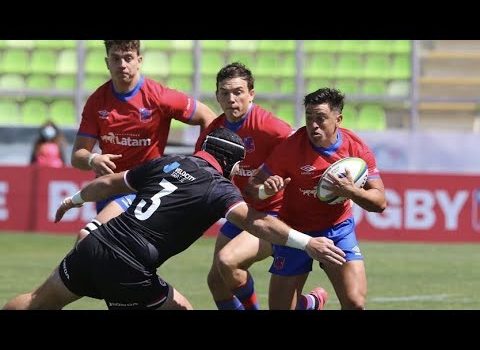 Published on October 11th, 2021 | by Daniel Boyle
0
Chile Defeat Canada to Keep Rugby World Cup Dreams Alive
Chile have defeated Canada in Valparaiso to keep their Rugby World Cup dreams alive.
It is the first time that Canada will not feature at the Rugby World Cup. It was the first time that Chile have beaten Canada in the 15 a side match. After the visit to Canada finished with a decisive penalty on full time, Chile needed to return with a victory. Chile won 33-24 at home after losing 22-21 in the dying moments in Canada.
Felicitaciones por la victoria q los condores de @chilerugby , no dejen de creer que lograrán cosas que parecían lejanas e imposibles!

— Elias Figueroa (@FigueroaChile) October 9, 2021
The second leg was played in the Estadio Elias Figueroa and the legendary defender passed on his congratulations online.
The road to 2023 will see them face the USA over two matches next year. Uruguay booked their return to the Cup with a victory over the USA. A loss in that two game match up may not be the end of the road though, with the loser to enter a four team qualifying tournament.
Chile🇨🇱 have done it! They have beaten Canada in the second leg of their qualifier!🏉@France2023 | #RWC2023 pic.twitter.com/FrRXeoJBr0

— Rugby World Cup (@rugbyworldcup) October 9, 2021
🇨🇱 In addition, that was the FIRST time that Chile have ever beaten Canada.

They have played each other seven times previously with an average points difference of 26 per loss.

Chile are a nation on the up! https://t.co/GJcPRVREyB

— RugbyInsideLine (@RugbyInsideLine) October 9, 2021
🇨🇱 Scenes after Chile defeated Canada 33-24 in Valparaiso on Saturday.

🏆 Chile now face the USA over two legs in a battle to make #RWC2023. pic.twitter.com/9VyGOTzHJ6

— Planet Rugby (@PlanetRugby) October 11, 2021
¡El terrible festejo de #Chile con toda su gente tras vencer a #Canadá y seguir con el sueño de clasificar a la Copa del Mundo!https://t.co/YhP3jyzEbo

— ScrumRugby (@ScrumESPN) October 11, 2021
The Rugby World Cup will be held in France. The performance of the South American nations has seen commentators impressed with the improvements and concerned with the decline of the North American teams.