interviews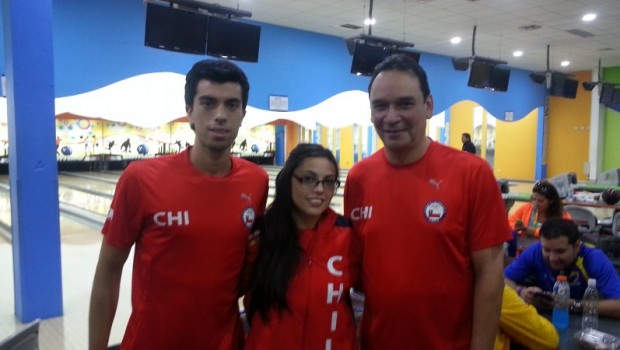 Published on March 16th, 2014 | by Daniel Boyle
1
Interview: Chilean Bowling Team
Sport/Life sat down to have a chat with some members of Chile's tenpin bowling team. The South American Games competition was held at Mall Plaza Vespucio's Happyland amusement centre.
Despite entering through a food court to get in to the bowling centre, Mall Plaza Vespucio played host to high level performances from bowlers from throughout South America. On entering the fun park, Sport/Life talked to Constanza Bahamóndez, coach Gustavo Rodríguez and Jesus Borgueaud about their experiences at the Games.
How have the Games been so far?
Constanza: I went really well. In the past I have gone badly, but this was a competition where things went as they had when we were training.
Jesus: Just regular. I had hoped to play better, but I didn't achieve that. I have to keep going though, keep improving.
How is the sensation of being host for the South American Games?
C: It's great when people see you with the Chile shirt and they support you. There's the advantage that we are already training here in these lanes, although it's different to how we normally train, so we have a small advantage.
G: You can feel the support of the Chilean fans. It's a great help.
J: Yes, there is a local advantage. Like the coach said, you can really feel the support from the public, starting from the morning, and I am thankful for that.
How did you get started in bowling?
C: My father was a bowler, so I was enrolled in a bowling school when I was nine years old. After that I went through to his team, then the coach of that time called me to be on the national team, so I came here to Santiago from Punta Arenas. Since 2009 I've been focused on the national team.
J: Same for me, through my father, at 4 or 5 years old. At 9 I started in a formative school, then through to the junior selection.
How is bowling in Chile, and in South America?
C: In Chile people don't know much about bowling. I get asked fairly often if bowling is a sport. Barely anybody knows that bowling is in the Odesur. In South America there is great competition, there are places where it is much more popular, there is more financing and government support. Of course, if we win a medal, that opens more support.
G: In Chile bowling is not a massive sport. It's just seen as entertainment. Spending time with family, or with friends, for fun. Something that's seen as recreation, not competitive.
Is there a national league?
J: For us to be on the national team, obviously we have to belong to a club, which is part of an association, which belongs to the national federation for bowling, which belongs to ADO the Olympic Committee etc.
C: Throughout the year we have leagues in different parts of the country, then later we have the nationals.
What are your best results?
C: Here. This was my best result. (Qualification for the Pan American Games along with Verónica Valdebenito).
J: In 2010. I was the South American Champion of the juvenil division.
What's your plans for after this?
C: This year we've still got some more competitions. The men will be trying to qualify for the Pan American Games. As we have that place, we'll be training more for Toronto 2015.
G: The next step is the South American Championships, then preparing for the Pan American Games.
Who are the best in South America?
G: It's between Colombia, Venezuela, Brazil and Ecuador.
We're in a mall. There's no better place for the competition?

G: Yes, it's not an ideal place to train.
C: It's like I said, if there are medals, they will give us something. If not, you go wherever you can.
How can you improve the funding?
G: We have to prepare, we have to have a plan that looks towards medals in the future, but that's a long term project.
Are most other bowling centres in Chile in malls?
G: The majority, yes.
C: In Punta Arenas, the bowling is inside a gymnasium.
Has the experience of the Games been positive?
C: Yes, it has been really good.
G: Yes. The athletes have given their analysis and it's been a positive experience for them. For me, there's also the negative part. There are definitely things that need to be improved.
J: Another level. I've never been in an Odesur or Pan American Games. There is great expectation, anxiety. All the crowd at the Opening Ceremony cheering from you. It's been a beautiful experience.
Could Chile host a Pan American Games?
C: We already had a Pan American Bowling Championship for women in 2008. They tried to bid for the Pan American Games last year, but they went to Peru.
G: Yes, they tried but Peru won that. I think yes. The infrastructure is there.
J: I think there is still a little lacking in the organisation.
C: That can come with time, this all really only started last year.
Anything else to add?
G: That this is a sport, that has passionate people playing, that it has its own science, it's not just a hobby.
More information about bowling in Chile can be found on the Chilean Bowling Federation website.