Football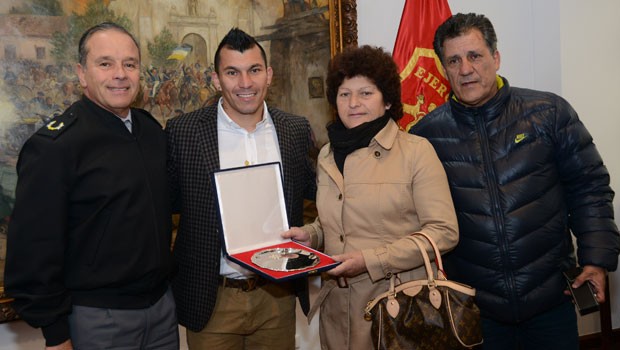 Published on July 5th, 2014 | by Daniel Boyle
0
Chilean Army Pays Homage to Gary Medel
Chilean defender Gary Medel, who played on despite injury in the World Cup clash with Brazil, has been honoured by the Chilean army.
The fighting qualities of the Cardiff City man captured the attention of the world's football fans, with Medel's devastated look as he was unable to take further part in the game after running more than 10 km with a muscle tear quickly becoming material for memes which spread after Chile's loss to Brazil.
It has been a busy week for the former Universidad Católica man back in Chile, donating his jersey to the Museo de la Moda in Vitacura.
Army boss General Humberto Oviedo highlighted the Pitbull's on-field example.
"This is an expression of gratitude for the sporting exploits, an attitude of overcoming adversity and being capable of saying I can do more," he said.
He is a man that has put discipline into what he is doing and for himself, we are sure that he is an example for our soldiers," the Commander-in-Chief added.
It has been a great turnaround for Medel, whose career is littered with both on and off field incidents. Among the best known are his red card in the under 20 World Cup semi final, with the ensuing riot leading to the Conchalí product being hit with a taser by police.
His aggression on the field has often led to him being dismissed from the field, and while playing for Sevilla he let his frustrations out on a plastic chair.
But under Jorge Sampaoli, Medel has become a true team leader, being voted by his teammates to take over the captaincy when Claudio Bravo was absent from the clash with Germany. Playing in the English Premier League, Medel was unable to save Cardiff from relegation, but became a cult hero with his performances at the Welsh club.
"It's something exciting from the Chilean army, I didn't expect this prize, that I think represents all of the Chilean public, that's why I'm here, to thank the army. I identify with the Chilean soldiers for the warriors that they are, for the fighters, that never say no, always go for more and I give my thanks for this," Medel said at the ceremony.