Sports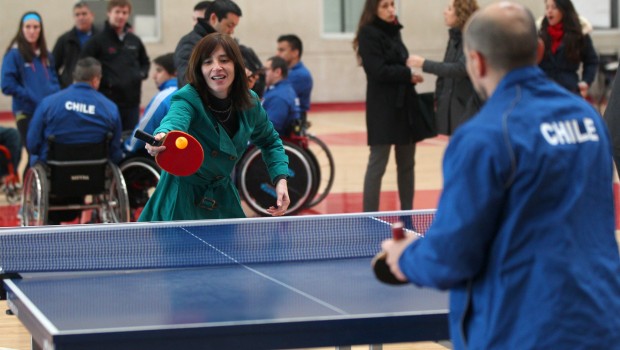 Published on June 27th, 2014 | by Daniel Boyle
0
Chile to Host National Paralympic Championships
Following on from the success of the Parasuramericanos, Chile will host a variety of Paralympic competitions, backing a promise from the Bachelet government to support Paralympic athletes.
With world record hold Juan Carlos Garrido and Paralympic champion Cristián Valenzuela representing Chile, the focus on athletes with a disability has increased in recent years.
The introduction of the Paralympic events follows on from a number of the Ministry of Sport's promises, with minister Natalia Riffo overseeing the proceedings. Among the promises were a focus on the regions, as well as on sport for athletes with a disability.
The tournaments will kick off in June and run until December, with events taking place in Santiago, Coquimbo, Melipilla, Curicó and Concepción across six sports. The 14 dates will see wheelchair basketball, bowls, wheelchair tennis, athletics, swimming and table tennis.
Alberto Vargas, president of Chile's Paralympic Committee, was pleased with the launch of the events.
"It's a historic deed for Chilean Paralympic sport. To have regular and structured competition represents an old dream for Chile's Paralympic movement. With the fact some events will be held in the regions makes it even more significant. This clearly helps us with our idea idea to give the possibility to a greater quantity of people with disability to practice sport."
Both Garrido and Valenzuela have been highly vocal about Paralympic sports having an equal standing with other athletes.
Minister Riffo emphasised the importance of Paralympic sport, stating, "For us Paralympic sport is of equal importance to any other sport. People with disability have the right to have quality infrastructure and have events like these first National Championships. On our part, we will do everything possible so that the Centro de Alto Rendimiento (CAR) has an adequate space for the athletes with disabilities, just as we will ensure that the Sport Schools incorporate this important segment of the population."
Among the activities at the launch, Riffo had a hit on the table tennis table with Cristián Dettoni. The 2012 Paralympian made headlines with an amazing save to continue a rally during the 2014 Parasuramericanos. Despite falling to the ground, Dettoni disregarded the consequences to earn an impressive point.
The championships, which have already kicked off, are sponsored by Salcobrand. The next event will be wheelchair basketball, taking place from July 19-20 in Santiago.
Chile were the first ever country to hold a Paralympic version of the South American Games, claiming 10 gold medals in the process.