Football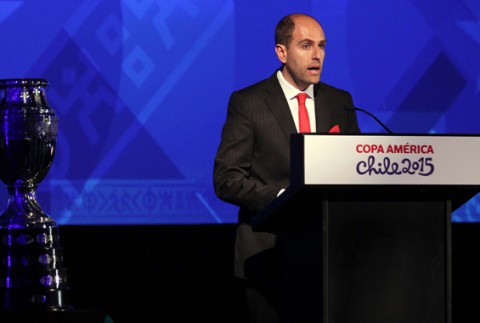 Published on April 3rd, 2014 | by John Lyons
1
Ambitious Chile aim for best-ever Copa América
There's the little matter of the World Cup to come first, but Chile have already launched the Copa América 2015 – and with lofty expectations.
Santiago – In a ceremony at the Hotel Hyatt, Chilean football association (ANFP) president Sergio Jadue spoke about how Chile wants to make the most of hosting the continent´s top football competition for the first time since 1991.
He said: "We won´t let pass this enormous opportunity that we have, after almost 25 years, to be a great host, a friendly rival and an organiser of the highest level.
"We hope that it is the best continental football tournament ever realised."
Chile greats Elías Figueroa and Iván Zamorano attended the launch, along with current Chile boss Jorge Sampaoli.
While the World Cup in Brazil is Sampaoli´s number one priority, he´s already looking forward to the challenge of the Copa America next year – and seeing if he can guide Chile to victory for the first time in their history.
The Argentinian said: "The Chilean fans will make a difference in the tournament because they are very passionate about their national team. The support of the people is very important for the Chilean players.
"That also generates high expectations to win the first Copa América. However, they will be very tough matches where we´ll play against big teams with a lot of history and top-quality players."