Football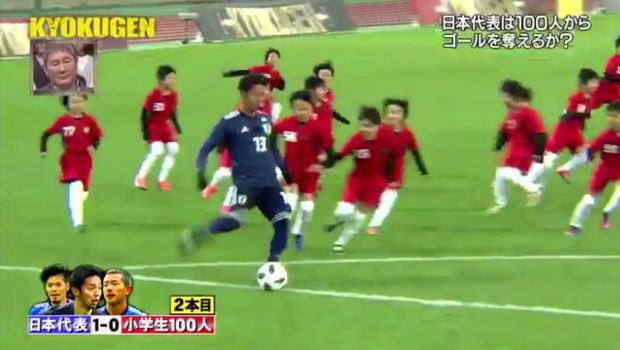 Published on January 2nd, 2018 | by Daniel Boyle
0
Three Japanese Players Take on 100 Children
A new year friendly with a twist has been played in Japan, with three of Japan's internationals taking on an army of children.
Yosuke Ideguchi, Hiroshi Kiyotake and Hotaru Yamaguchi took the field with an unusual opposition. It was the tradition new year event, where three Japanese players take on 100 children.
Despite having at least 10 goalkeepers, the young children were not tall enough to save any chips over the top.
Japanese NYE tradition. 3 internationals vs. 100 kids. Mental…#Ideguchi #Kiyotake #Yamaguchi #Leeds #LUFC #サッカー #JFA #daihyo pic.twitter.com/zTfGXyD89l

— Mundial JPN (@MundialJPN) December 31, 2017
It wasn't the only New Year action, with the Mundial JPN Twitter account sharing another challenge online.
More New Year football madness from Japan. This time it's 3 legends knocking it across Meguro river, then trying to head it into a moving delivery bike. Mental…#Ono #Nakazawa #Endo #Feyenoord #VFLBochum #WSW #GambaOsaka #Consadole #FMarinos #サッカー pic.twitter.com/HElqm8MtL8

— Mundial JPN (@MundialJPN) January 1, 2018