Footbag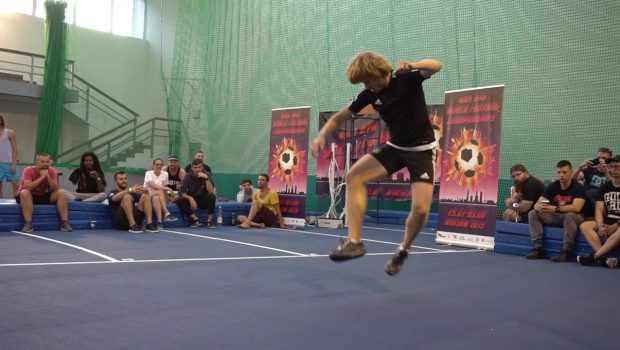 Published on June 14th, 2020 | by Daniel Boyle
6
World Footbag Championships Routines 2000-2020
Footbag World Championships Routines over the past 20 years.
With the World Championships coming closer, I started looking through the routines over the past years, going back to 2000.
Vasek Klouda is the obvious regular contribution, with eight appearances along that time at the top. Some these videos took some time to find, so I've decided to put the winning routine for each year from 2000 to 2019.
These are the winners of the Men's events back to 2000. Some people have their favourite routines which may have been done in qualifying rounds or not have been judged to be the winner, these are not here.
Which is your favourite?
2019
Vasek Klouda – Warsaw, Poland
Ten years after his last Routines victory, the "King of Footbag" was back in business. He looked determined and energetic all through the tournament and won most events.
2018
Patrik Černý – Sofia, Bulgaria
Yet another Czech champion. This was an excellent performance from a player who has been building solidly for a few years.
2017
Paweł Nowak – Portland, Oregon, USA
Worlds was back in the birthplace of Portland after a twenty year absence. It had also been quite some time since the last North American Worlds, but that couldn't stop another European taking the title. A big statement from the Polish player, who has followed up with strong performances the following years.
2016
Evan Gatesman – Trnava, Slovakia
After big wins in almost all other freestyle events, the "Silencer" finally got to put the cherry on the cake with a Routines victory. We haven't seen so much from Evan Gatesman in the following years but he had a real period in this time where he was in such great form.
2015
Milan Benda – Copenhagen, Denmark
This was the last World Championships I was able to personally attend. Milan has spent a lot of time over the years in Copenhagen so I imagine he would have been extra pleased to add a second title to his collection there.
2014
Jindra Smola – Paris, France
I was going to put which country each player is from in brackets, but it's almost a given that I would be writing (Czech Republic) often. Jindra was hitting some huge tricks in this time and doing a lot of street performing. I think that helping him take the title in France.
2013
Honza Weber – Montreal, Canada
Honza made it a threepeat with victories from 2011-2013. The Montreal Worlds seemed to have quite a small turnout but there were many stories about how great a time people who did attend had. Honza has barely competed since but is doing great work with shows and presentations.
2012
Honza Weber – Warsaw, Poland
With Poland having so many high level players, it was time for them to host Worlds for the first time. None of the Poles were able to stop another Honza title.
2011
Honza Weber – Helsinki, Finland
Honza Weber World Footbag Champion 2011 from Honza Weber on Vimeo.
After bursting on the scene as a teen all those years back with Vasek and the other young talents, Honza had a decorated career but hadn't been able to take the Routines title. Helsinki was his first of three in a row.
2010
Milan Benda – Oakland, California, USA
I mentioned I was there in 2015 for Milan's second title, I was also there for his first. Coming in as the lowest seed in the final, he impressed with a dropless routine full of difficult tricks.
2009
Vasek Klouda – Berlin, Germany
In 2008 the crown had been snatched, but in Berlin Vasek came back on top once again. I don't know if anyone expected it would be ten more years until Vasek's next Routines title.
2008
Damian Gielnicki – Prague, Czech Republic
The second time Worlds had been held in the Czech capital. It had been all Vasek since then, but the Polish scene had been rising for a while and they finally had a champion in the Routines event, breaking a run of 6 from Vasek Klouda.
2007
Vasek Klouda – Orlando, Florida, USA
Six of the best for Mr Klouda. After he usurped the throne in San Francisco, the Worlds had been on tour. This was the first time back in the USA since and Vasek was yet to be defeated.
2006
Vasek Klouda – Frankfurt, Germany
Five in a row for Vasek Klouda. The question was who would be able to stop him.
2005
Vasek Klouda – Helsinki, Finland
Four of a kind in Finland for Vasek. The gold kind that is. Finland was already showing great signs but none of their star players could catch the "Golden Child".
2004
Vasek Klouda – Montreal, Canada
Triple treat for the Czech, managing to back up his 2003 victory on home turf. After almost all previous championships being in North America, the European event was becoming more common.
2003
Vasek Klouda – Prague, Czech Republic
Prague 2003 was a big deal. Over 200 players registered, with huge amounts making the journey from the USA for the first European event. Vasek was able to follow up his first Routines victory with another (and another, and another…)
2002
Vasek Klouda – San Francisco, California, USA
The first of a run of titles for Vasek Klouda. The Czechs made their mark on the scene this year, with Vasek taking the title from Ryan Mulroney, who had been searching for three in a row.
2001
Ryan Mulroney – San Francisco, California, USA
If someone told you at this point that only one North American would be added to the Routines winners, I think they would have laughed in your face. Mulroney doubled up after his win in 2000.
2000
Ryan Mulroney – Vancouver, Canada
Ryan Mulroney IFPA World Footbag Championships 2000 – 1st Place from Shred Archives on Vimeo.
We'll take this list back to 2000, which was a win for Mr Mulroney. The 2000 event was held in Vancouver and at this stage I'm not sure if the European domination of the sport could be seen yet.
Some of these routines may inspire you to get training for the online version of Worlds this year. Get your entries in for that.