Sports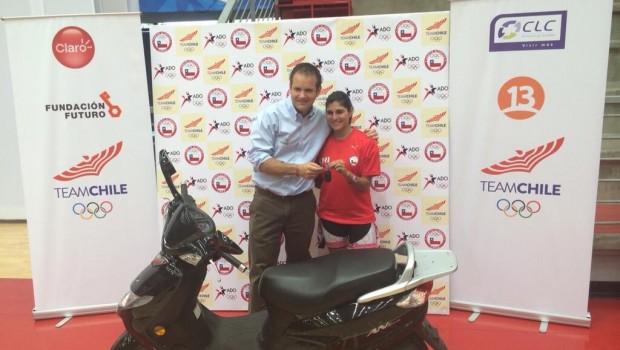 Published on February 27th, 2014 | by John Lyons
0
Skater Moya scoots off with the prize
She´s more used to inline speed skating, but now María José Moya can whizz around town on a Scooter as well.
Santiago – Moya was chosen as the Asociación de Deportistas Olímpicos de Chile´s (ADO Chile) top sportsperson for 2013 – and her prize was the already-mentioned Scooter.
In 2013, she won the silver medal in the World Games in Belgium in the 300m to establish her credentials for the honour. Perhaps it was also a reward for consistency – in 2012 she won the gold medal in the 200m, in 2011 she won silver in the 500m and in 2010 she won bronze in the 200m.
She said: "This is a prize for the effort and sacrifice to the sport for all the years – I´m really happy."
Now Moya can focus on her next challenge – the South American Games in Santiago, which begin next Friday, March 7.
"My personal objective is to win gold and I´ve worked and trained really hard for that," she said.
There´s no doubting Moya´s enthusiasm for the chance to represent her country on home soil and she´s hoping the public are just as positive.
She said: "The Chileans should fill the stadiums and support us 100 per cent. It´s really important for us to have their support during the competitions."
It promises to be a family affair at the games as Moya´s sister, Valentina, is due to take part in the 1,000m. And when it´s all over, the highly successful skater is hoping that sport in Chile will be better off for having a big championship to get behind.
Football tends to hog the television coverage and newspaper column inches in Chile, so this is a big opportunity for other sports to try to grab their share of the limelight.
"This is going to be a milestone for Chile," she added. "We´re going to be a country with more sporting culture and that´s going to help the sportsmen and women of high performance."