Sports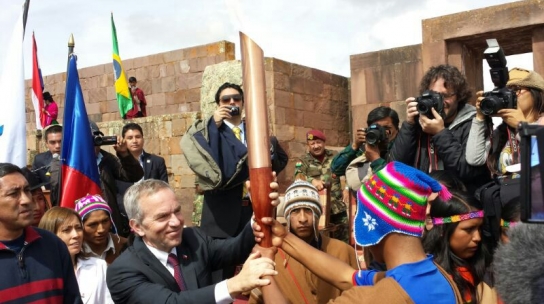 Published on February 27th, 2014 | by Daniel Boyle
0
Odesur Flame Lit in Bolivia
The torch relay for the South American Games (Odesur) is underway, with a chasqui given the task of taking the torch from Tiwanaku to Santiago for the opening ceremony on March 7.
The messenger will carry the flame, lit by Bolivian Olympic Committee President Alvaro Guzman. Among those not present at the ceremony in the heritage site were Bolivian President Evo Morales, known for his regular anti-Chile tirades. Among those who were on site at the event were Tito Montaño, Bolivia's Minister for Sport, and his Chilean counterpart Gabriel Ruiz-Tagle, as well as Marcela González, Executive Director of Santiago 2014.
La Paz hosted the first ever South American Games in 1978 and the Odesur will return to the country for the 2018 event in Cochabamba. Bolivia will send 121 athletes to the event.
According to El Mercurio, dual Olympic medalist Nicolás Massú will be responsible for lighting the flame, while Los Jaivas and Americo will be among the musical acts during the opening ceremony.