Sports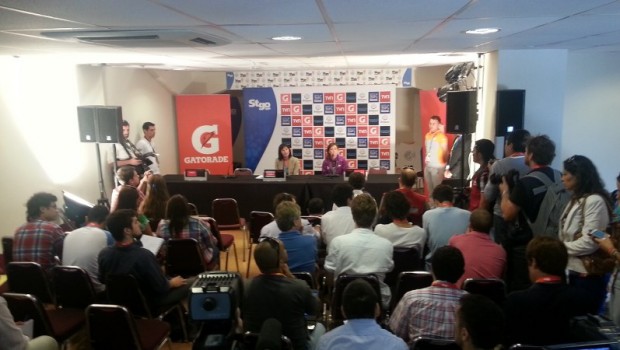 Published on March 13th, 2014 | by Daniel Boyle
0
Natalia Riffo Gives First Press Conference as Sports Minister
With the Chilean government changing hands midway through the South American Games, new minister Natalia Riffo used the mega sporting event to meet the press for the first time.
"I came here to know all of you and also to invite to the public to go to the games and fill the stadiums," said the public security expert in the opening of her first press conference. The shift of government, along with the Juegos Suramericanos seem to give an opportunity for both the polideportivo and the regions, as well as the everyday citizens.
While escuelas de futbol currently exist, supported through the Instituto Nacional de Deportes, Riffo stated that one of two key plans of the first 100 days of government will be the creation of sporting schools for other disciplines, with each region defining on the course for their zone.
A plan for the development of 30 new multisport stadiums is also due to be completed by the first 100 days in office. While the shift in focus will be to other sports, football will be due to take centre stage in 2015, with Chile hosting the under 17 World Cup and Copa América. Chile will also host the the Homeless World Cup at the end of 2014.
Football has already benefited from stadiums in preparation for the upcoming international competitions, with some such as Estadio Ester Road in Concepción and Sausalito in Viña del Mar lagging behind schedule.
Riffo also touched on another mega event, the Dakar Rally. She said she would be analysing the details with all the parties involved, including the Colegio de Arqueologos, who have made claims that the race damages vital historic sites and attempted to have the race stopped. With Peru choosing not to play host to the race due to budgetary reasons, the minister claimed that the income generated from the race outweighs the cost of putting the event on. Chile had their first taste of success in the Dakar this year, with Ignacio Casale winning the quads race.
Despite being an expert in public security, Minister Riffo said she will leave the theme of the Estadio Seguro to the Interior Ministry, saying that as Minister of Sport she could suggest ideas and add to the conversation, but stadium security was a police matter.
When announced, the psychologist was criticised for a lack of relation to the sporting world, which previous minister Gabriel Ruiz-Tagle labeled as "unjust". The former Colo Colo boss had said the changeover during the South American Games worked to show how Chile should operate as a country.
"This shows how things should be done, it shows the continuity of the public policies. This is the way countries are constructed, this is a plus," he said.
On her debut outing, the new minister also commented on the controversial crash of Irene Aravena, saying an investigation was already underway into what exactly happened.