Football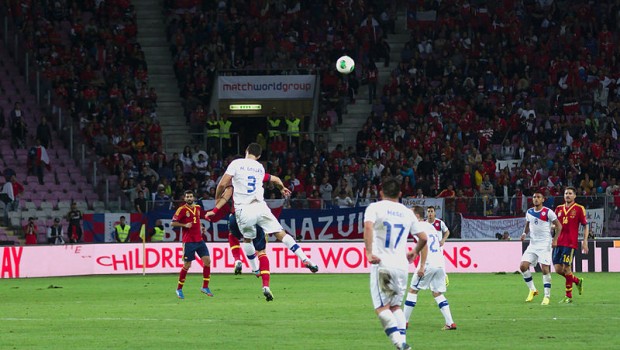 Published on July 8th, 2014 | by Daniel Boyle
1
Marcos González Hits Out at Sampaoli
Marcos González has unleashed his disappointment on missing World Cup selection, hammering coach Jorge Sampaoli for leaving him out of the team.
Despite not playing for months ahead of the tournament, Marcos González was a surprise omission when Jorge Sampaoli cut the squad down from 30 to 23. González and Rodrigo Millar were the last to pack their bags from Juan Pinto Duran, though there were eight players who went to Brazil but didn't take part in the tournament.
With Unión Española presenting their reinforcements for the new season, González, who signed up in April with hopes of playing in the final stages of the Copa Libertadores with the hispanos, took the opportunity to make his feelings known. He strong barbs for the coaching team that he joined for success at Universidad de Chile in 2011.
"I understand why he left me out of the final selection. I understand because Sampaoli wasn't a player. He doesn't understand the difference between playing with a player that's the same size or one that's smaller, he hasn't lived it, he doesn't know what it's like. He doesn't know, because he never played, and neither did his coaching staff. They're never going to understand what it's like to play beside someone of the same size."
The 34-year-old was a key part of Chile's qualification process, being third on the list of Chilean players who were involved in the most minutes during the qualifiers. González played in 14 matches, starting 11 and scoring a goal in the 3-0 victory over Venezuela.
Despite Chile going into the tournament with a serious height disadvantage, the fighting spirit displayed by Gary Medel, Gonzalo Jara and Francisco Silva kept many of the opponents at bay, though the former Flamengo man's height was missed when Tim Cahill scored for Australia.
González, who was advised to leave Flamengo due to his lack of playing time, came to Chile to train at Juan Pinto Duran under Sampaoli's orders. With just one game under is belt in 2014 and not listed in Flamengo's Copa Libertadores squad, the defender was under pressure to find a new club.
"He asked me to quit, I did that, I came to train in Chile, I had no other reason to leave Flameno and come here. I compromised my family, my income and quit without having a club and I don't understand how he could do this to me," said González.
Surely the Argentinian coach was suggesting that he look for a new club where he would get some playing time, with Sampaoli known to take a strong long and cross players who are not playing regularly off his list. Former teammate Charles Aránguiz was advised by the coach to move on from Universidad de Chile, and after a strong start in Brazil, was one of Chile's best at the World Cup.
After his outburst, it remains to be seen if González will be part of the Copa América process, with his height an advantage on the team.
Unión Española have made strong moves in the player market, with five other players presented alongside González. Milovan Mirosevic (Universidad Católica) and René Lima (Cobreloa) will strengthen the midfield, Mathias Vidangossy (Colo Colo) and Ramón Lentini (Chacarita Juniors) will look to provide spark in attack following the departure of Gustavo Canales, who returns to Universidad de Chile. Goalkeeper Jonathan Salvador (Deportes Concepción) completes the recruitment picture.