Footbag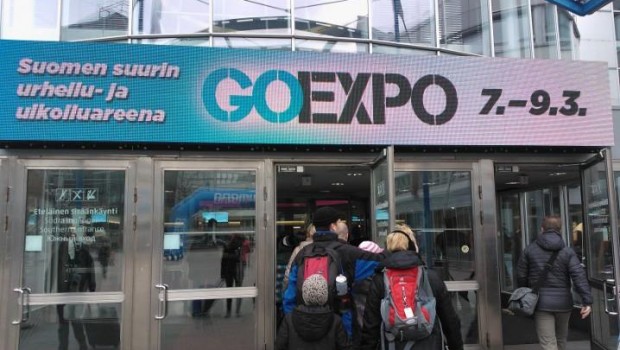 Published on March 10th, 2014 | by Jay Boychuk
2
Footbag Eurotour Stop #1: Go Expo, Helsinki
This past weekend was the first official stop of the Eurotour, at Finland's largest annual sporting event, "GO EXPO". The footbag Eurotour aims to bring mass awareness to the public about footbag, via the most professional and high quality means possible. Footbag was one out of three hundred and fifty exhibitors, amongst giants like Adidas and GoPro. Footbag was exposed to the selection of 42,000 visitors, ranging from entire school buses of children, to travelers from as far away as the USA.
Footbag is a sport that heavily relies on community, comradarie, and equality. Everyone can have fun playing footbag, whether it is something to unwind on your lunch break from work, or spend time with your friends after school. We set out to have footbags in the hands of as many people as possible, and had options to win or buy footbags. The children took part in the Children's Olympics, which involved them visiting a selection of interactive stands, trying out each sport. Footbag was set apart from the pack, as 500 kids walked away from the stand with a free footbag as a reward for kicking a footbag onto a target.
Families and groups alike all were stopped in their tracks, when they were exposed to our team playing footbag right in front of their eyes, alongside a show reel of HD footbag videos.  Our expectations were completely blown away, as we reached our weekend sales target in mere hours of the 4 day event, and every gender and age group had a go at kicking a footbag. Hour after hour we witnessed children who had already won a footbag were coming back with their friends to keep on playing, and get tips on how to circle kick.
We had 3 live routine performances throughout the weekend, on the main stage. Footbag Eurotour team member Anssi Sundberg delivered a dropless show for viewers, followed by a crowd of visitors too large to fit in front of our stand. An additional bonus was that several footbaggers who weren't already aware of Footbag Finland, and the community were introduced to Finland's finest, and were exposed to the best playing materials and advice.
As the first stop in our tour, we couldn't be any happier. The crowds loved footbag, hundreds of kids and adults alike are now carrying a footbag in their pocket, and most of all we have planted more seeds to ensure a sustainable community in the future. Stay tuned for more videos from the event, until we get to our next stop in Prague, Czech Republic.