Tennis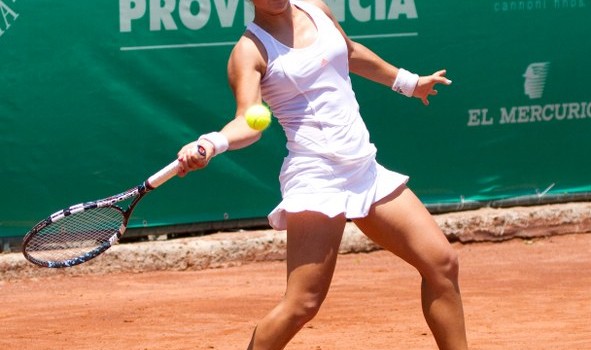 Published on July 19th, 2014 | by Daniel Boyle
0
Cecilia Costa Takes Doubles Title in Knokke
Cecilia Costa joined Spaniard Aliona Bolsova to win the ITF $10,000 tournament in Knokke, Belgium, defeating local opposition in the final.
With both the visitors and locals Justine de Sutter and Sofie Oyen unseeded for the tournament, it was an opportunity for either pair to gain important rankings points, with 12 points to be added to the WTA rankings, as well as the cash prize.
More importantly for Costa, it was a chance to make amends for her first round defeat, where the Chilean was surprised by Oyen in straight sets to lose 7-5, 7-5.
In a hardfought battle, which reached the super-tiebreak, it was the visiting duo that finished victors, winning 4-6, 6-3, 10-3.
The 21-year-old Chilean now has seven titles in doubles along with four in singles. It was Costa's first title in either for 2014. Bolsova, who is not currently ranked in doubles, won the singles event at the Lleida tournament in 2014, but it was also her first title for 2014.
Cristobál Saavedra has had strong results at doubles level, but at Germany's F8, he will play in his first singles final of the year, looking to add to his seven career singles titles. Guillermo Rivera and Juan Carlos Sáez are also continuing their strong form in Europe.
Christian Garín will try his luck at entering the main draw of an ATP once again, competing in the qualifiers at the Gstaad tournament in Switzerland against German Mats Moraing.
Moraing may be tired of seeing Chilean faces, having faced Ricardo Urzúa, Cristobal Saavedra and Nicolás Jarry at the F6 tournament in Germany. After beating the first two, he lost to teen sensation Jarry in the final.
Daniela Seguel (284) will be looking to return to victory in Poland, taking on Czech Republic's Pernilla Mendesova, ranked 389 in the $50,000 ITF tournament.
Costa's last tournament victory was alongside Seguel, the Chilean duo winning the $25,000 Mont De Marsen tournament.