Vlog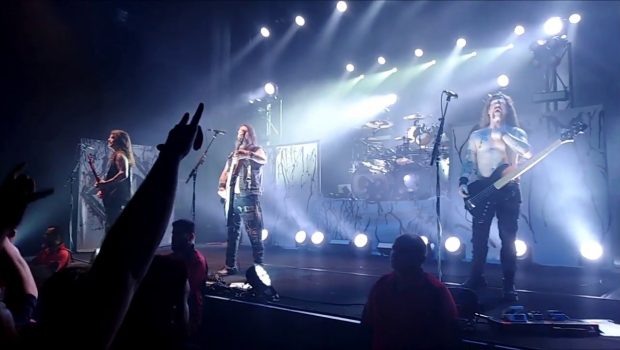 Published on August 21st, 2018 | by Daniel Boyle
0
Capital Eyes – Vlog 47 – Machine Head
Machine Head playing at the Enmore Theatre in Sydney. A collection of songs from their Evening with Machine Head show.
This was time number seven for me seeing Machine Head. As I mention in the vlog, I haven't got around to seeing international bands as the Australian bands. So Machine Head take the lead over Evergreen Terrace, Alexisonfire and Poison The Well, who are all on six.
Unfortunately the sound hasn't come out great on the vlog. I made a similar vlog about going to see Killswitch Engage at the same venue last year. It was a mix of live clips and me talking rubbish as I walked down the street after quite a few beers.
There were just as many, if not more beers consumed in this evening, however I have spared you my thoughts from the early morning.
Even from the vlog you can tell that Machine Head play a varied set, covering all the albums. I mentioned in the vlog I was hoping to see the Raiders play, but in the end I was glad to miss that one, as they lost to Cronulla in controversial circumstances. It has been a classic season of close losses, so hopefully next year will be an improvement.
If you compare these videos to those from the Killswitch Engage show, you will notice I am in basically the same place, though I did manage to get right up the front for the final song of the show.
I don't think anything is going to beat my first time seeing Machine Head back in 2004. That still remains my favourite show that I've been to. If nothing has beaten that in all these years, I don't really see it being topped. That is not only for seeing Machine Head, that's for all bands. In terms of Machine Head though, this one was right up there.
I really enjoyed the night afterwards. The friends I went with hit the road soon after but I wanted to enjoy my night out in Sydney, so ended up at the Townie, playing some pool and talking a whole lot of rubbish, mainly with people who had been at the show.  On the way back I met a couple of people in the same boat, heading back to the city from being at the pub after seeing Machine Head.
We convinced each other another beer was a good idea, and that it would be somehow possible to get, considering Sydney's lockout laws, and soon enough it was close to sunrise. A few hours later I was having a swim in the hostel pool, trying to get a little refreshment before catching the bus back home.