Boxing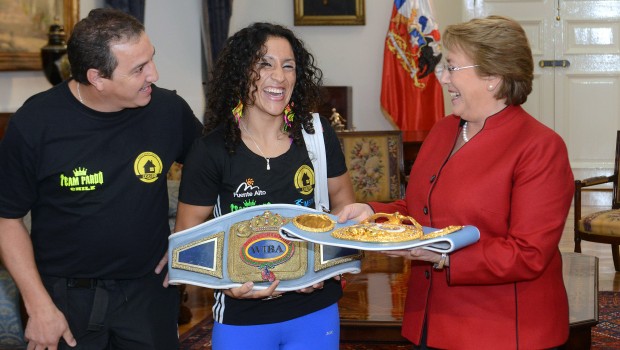 Published on June 13th, 2014 | by Daniel Boyle
0
Crespita Counts on Support from the Top
Chilean boxer Carolina "Crespita" Rodríguez met with President Michelle Bachelet, with the former head of UN Women promising to support a title defence in Chile.
La Crespita had to travel to Mexico to pick up another world title, having failed to find funding to set up a planned world title fight. Plans are currently underway to defend her WIBA title, which she first took in August 2013, beating Ana Lozano for the vacant title.
Having defended that title in January, the 30-year-old traveled to Mexico to take the IBF title from Janeth Pérez, continuing an undefeated record. Rodríguez has won all of her 12 fights.
"The president is going to help me defend my title in Chile, and she's promised to do make arrangements to grow this sport, and most importantly, it will help me in my career," the boxer said after meeting President Bachelet at La Moneda.
Sports Minister Natalia Riffo added that the idea was not only supporting the event, but the example of Crespita in a sport dominated by men.
Rodríguez eventually met former president Sebastián Piñera, having been disappointed at not receiving a presidential welcome after winning her first title.
Bachelet has continued on the sporting theme, arriving in Brazil to attend Chile's opening World Cup match against Australia.