Handball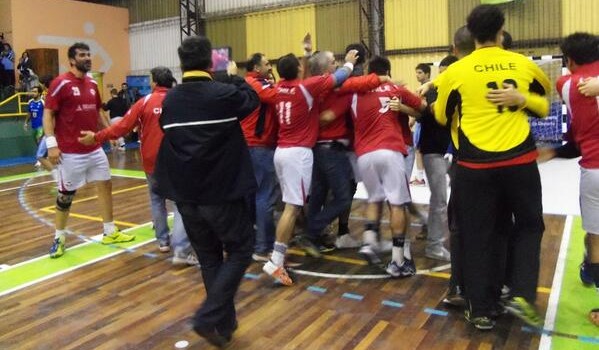 Published on June 29th, 2014 | by Daniel Boyle
1
Chilean Handball Team Book Tickets to Qatar
Chile's men's handball team had a last minute victory to snatch bronze from Uruguay at the Pan American Championships in Montevideo.
With Uruguay leading for a majority of the game, Chile's chances of qualifying for a third straight Handball World Championships looked to be slipping through their fingers.
Having fallen to Brazil in the semi-final, Chile need to beat hosts Uruguay to take the bronze medal and book the tickets to Qatar.
Chile led in the early encounters, but Uruguay pulled things back to go into the second half with scores level at 13-13. Uruguay went on the attack in the second half, leading 16-14 in the early stages. The hosts went to a three point lead to take things to 21-18 midway through the period, with Chile going into a timeout at 23-20.
The short break seemed to do handball's version of La Roja a world of good, coming back into the match for 24-24, with Rodrigo Salinas adding what were to be the match-winning points.
Uruguay's dreams of reaching their first World Championships were shattered when Felipe Barrientos blocked the last throw of the match, the Condor de Quilpúe being Chile's hero, having saved a penalty among other key stops.
Despite bowing out, the local crowd gave their team a standing ovation for how close they had come to achieving their goal.
Chile captain Marco Oneto recognised after the match that Chile entered the game with high expectations, that could easily have come crashing down.
"This is a great lesson to us, not to enter into game over-confident," said the captain, who played on despite an injury which had ruled him out of the World Team to play in Egypt. The Chilean pivot admitted that at various points in the match it seemed that the team's dream of qualifying for Qatar looked to have escaped.
#URU2014 Marco Oneto: "Hubo varios momentos en que sentí que se escapaba el sueño del Mundial" pic.twitter.com/iD2CO7u6Om

— PATHF (@panamhandball) June 29, 2014
Chile will hope their experiences at the previous tournament will help them build for the Qatar event, with La Roja still yet to record a victory in the group stages at the World Championship level. Out of the 24 teams involved. Chile finished 22nd in 2012 and and 23rd in 2013.
Despite their consecutive appearances on the world stage, Chile's limited competitive appearances mean a lowly world ranking of number 59. Australia, who ranked last at the past five World Championships, having a higher ranking at 39, while defeated opponents Uruguay are at 43.
Chile will be hoping they will be able to put their best team on the court at  the Championships, which begin on January 15. Oneto was badly missed when he had to pull out of the 2013 tournament through injury.