Football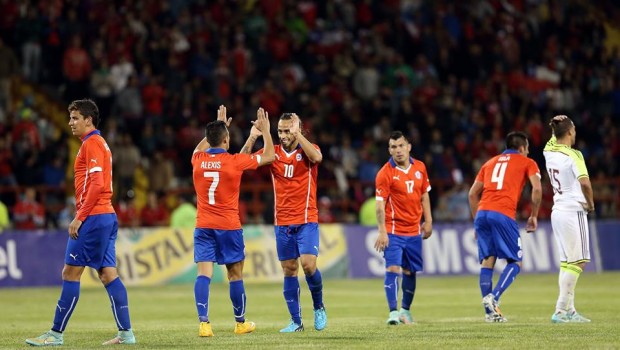 Published on October 16th, 2015 | by Daniel Boyle
1
Chile Off to Perfect Start in World Cup Qualifying
Alexis Sánchez and Eduardo Vargas scored two goals apiece as Chile defeated Peru 4-3 to be level on top of the South American World Cup qualifying standards after the first round of two matches.

With Brazil at home and Peru away, Jorge Sampaoli and his Chile side could easily have come away from the first double FIFA date without a point. Chile's record against Brazil is nothing short of a shambles, while Sampaoli opened his 2014 qualifying campaign with a loss against Peru after an infamous error by Junior Fernandes.
Christian Cueva made Chile's job easier in the clash with the northern neighbours, the former Union Española man thrown off the field after showing aggression against Jorge Valdivia. It was not all smooth sailing for La Roja, with Claudio Bravo seeing three goals into the back of the net as Paolo Guerrero equalled Peru's all time goal scoring record. While the high scoring affair has Chile on top of the table alongside Ecuador and Uruguay, it is the after match antics that have the media's attention. The Chilean team left a less than sublte message for their opponents in the locker room after the match.
With two goals apiece, along with a goal each against Brazil, Sánchez and Vargas are quickly scaling the Chilean goalscoring charts. With 29, the Niño Maravilla is now on equal terms with Carlos Cazely, with only Marcelo Salas and Ivan Zamarano ahead of him. With 23, Vargas is number six on the all time list.