Football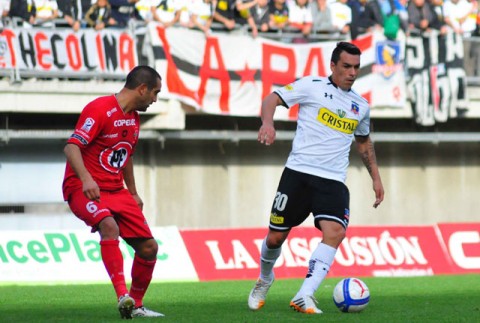 Published on April 27th, 2014 | by Daniel Boyle
0
Chile Names Domestic Players for World Cup Squad
Jorge Sampaoli has made the first announcement of players, with a locally based squad set to begin work at Juan Pinto Duran.
Highlighted among the squad was Esteban Paredes, who blasted his way to become the competition's top scorer, scoring all five of Colo Colo's goals in a 5-3 victory over Ñublense.
Ten players have been called up, with the locals making up a third of the 30 man squad, which will then be cut down to 23 before leaving for Brazil.
The callups were evenly split, with Colo Colo, O'Higgins, Unión Española, Universidad  Católica and Universidad de Chile all contributing two players. While Marcos González is not yet able to play for Unión Española, he has been included among the hispanos numbers. Sampaoli will be deeply concerned about his lack of action during 2014.
Three local goalkeepers have been included, though one will ultimately miss out on the journey. Joining Paredes in attack will be Gustavo Canales, while Universidad de Chile striker Patricio Rubio has not been considered. Pablo Hernández and Enzo Andía will be among the domestic players pushing for a place.
While their arch-rivals were finishing off the campaign with victory, "La U" crashed to yet another defeat, falling 4-0 to Cobreloa. The victory saw the Calama outfit qualify for the end of season liguilla. 
Colo Colo captain Gonzalo Fierro, who was part of the South Africa squad in 2010, but didn't play any matches, was not part of the 10 player list.
1. Johnny Herrera (Universidad de Chile)
2. José Rojas (Universidad de Chile)
3. Paulo Garcés (O'Higgins)
4. Pedro Pablo Hernández (O'Higgins)
5. Enzo Andía (Universidad Católica)
6. Cristopher Toselli (Universidad Católica)
7. José Pedro Fuenzalida (Colo Colo)
8. Esteban Paredes (Colo Colo)
9. Marcos González (Unión Española)
10. Gustavo Canales (Unión Española)