Basketball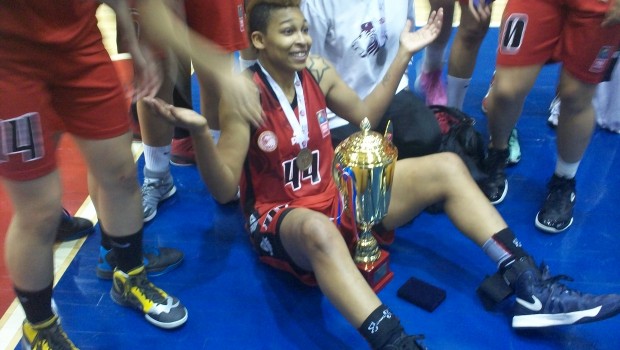 Published on July 7th, 2014 | by John Lyons
0
Tyson-Thomas stars in Colegio Los Leones title triumph
Carmen Tyson-Thomas turned in an oustanding performance as Colegio Los Leones were crowned Liga Nacional basketball champions.
In the opening two nights of the Cuadrangular, Colegio Los Leones and New Crusaders had beaten both Puerto Montt and Deportes Castro at the Centro de Entranamiento Olímpico 2 (CEO 2) in Ñuñoa.
It meant their showdown on Sunday night was effectively a final to decide who would be the champions – and it was Colegio Los Leones who ultimately triumphed.
Although Los Leones won by a comfortable 83-69 scoreline at the end, there were large parts of the match when it seemed it could go either way and Valparaíso's New Crusaders could be proud of their efforts.
Quilpué's Los Leones led 22-18 at the end of the first quarter, but had already suffered a major blow as Chilean international Ziomara Morrison was forced to leave the court due to a painful knee injury.
However, they had Tyson-Thomas to guide them on the right path and the 23-year-old guard was simply unstoppable at times. She was here, there and everywhere and appeared at times to be on a mission to win the title single-handedly.
Los Leones had a 10-point lead with less than ten seconds left of the first half, but New Crusaders took advantage of their opponents' indiscipline to score four free throws and then Lorena Infante netted a miraculous long-distance shot on the buzzer to cut the deficit to three points (43-40).
When New Crusaders continued where they left off at the end of the first half by taking an early 49-44 lead in the third quarter, it looked as though they were in the driving seat.
However, Colegio Los Leones dug deep and, helped by Morrison's return, they turned the game on its head again with 15 unanswered points to take a crucial 59-49 advantage.
By the end of the third quarter, Los Leones were well in control with a 67-54 lead. Try as they might, New Crusaders couldn't make major inroads into the deficit in the final quarter and it was clear well before the finish that the title was heading to Quilpué.
Tyson-Thomas took the personal accolades with an incredible 38 points and 12 rebounds, while Morrison chipped in with 12 points and 13 rebounds.
For the New Crusaders, Javiera Novión (21), Javiera Morales (18) and Infante (17) were the biggest scorers.
It was jubilant Los Leones' second title, as they had previously won the first edition of the tournament in 2012.
The winning squad was: Paula Carrasco (captain), Ingrid Carrasco, Sendy Basaez, Ziomara Morrison, Francisca San Martín, Marcela Gamboa, Paola Naranjo, Katalina García, Milena Kaljanin, Monserrat Videla, Daniela Alcaíno and Carmen Tyson-Thomas. Coach: Claudio Jorquera.
*Puerto Montt defeated Deportes Castro 83-59 to take third place.