Basketball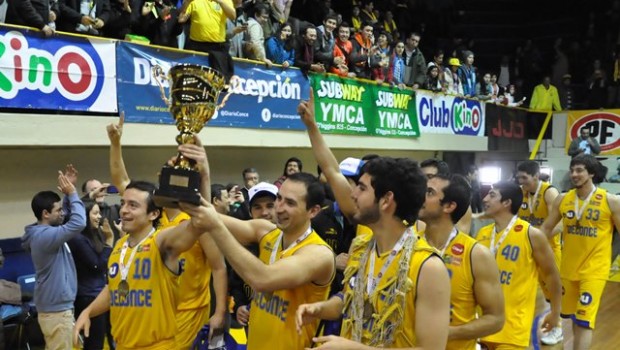 Published on August 25th, 2014 | by John Lyons
0
U de Conce are the Libcentro champs
Universidad de Concepción have been crowned Libcentro basketball champions after beating holders Boston College in the deciding match of the Cuadrangular Final.
Hosts U de Conce and Boston had both won their opening two matches against Colegio Los Leones and Universidad Católica to set up a winner-takes-all showdown.
Backed by more than 2,000 fans at the Casa del Deporte, it was Universidad de Concepción who proved the stronger, running out 80-69 victors.
The first half proved extremely tight, though U de Conce edged into a 31-27 lead. It was in the third quarter when the hosts pressed home their advantage. They took it 25-19 to open up a comfortable ten-point margin.
The Eagles continued to fight hard in a bid to hang on to their crown, but were unable to make inroads and U de Conce edged the last quarter 24-23 to make it an 11-point margin.
Evandro Arteaga weighed in with 38 points and Matías Villagrán notched 22 for the victors. The public elected Eduardo Marechal as the best player of the competition and he was also chosen as the MVP of the final.
Meanwhile, Colegio Los Leones claimed third place by beating Universidad Católica 70-55.
The six teams from the Libcentro that have qualified to take part in the Liga Nacional are Universidad de Concepción, Boston College, Colegio Los Leones, Universidad Católica, Español de Talca and Colo Colo.
Español de Osorno, Ancud, Las Animas, Castro, Lautaro and Valdivia qualified from the Liga Saesa.