Sports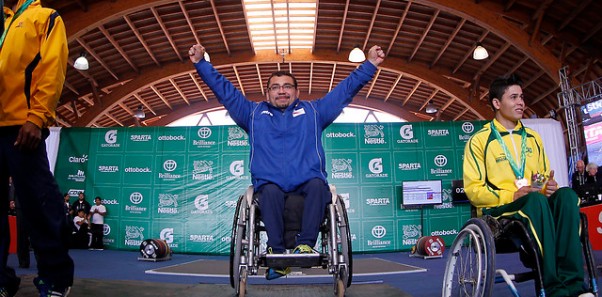 Published on June 14th, 2014 | by Daniel Boyle
0
Garrido Goes Gold With Record Lift
Juan Carlos Garrido has continued an impressive year, taking gold at the Invitational event in Bogota, Colombia.
Garrido, who took gold in the Parasuramericanos in Santiago, broke his own Para Pan American record, lifting 180 kg in the under 59 kg category.
Having lifted 177 kg to win in Santiago, the Chilean has had his eyes on his own world record, the lift of 181 kg achieved in Brazil during 2013. In Bogota, he was just 1 kg under that record, lifting 180 kg to take victory.
Orgulloso de ser Chileno y dar a mi país un nuevo récord Panamericano @FParalimpica @SomosTeamChile @Deporterochile pic.twitter.com/Wl2T5zmQcP

— juan carlos (@jcpowerlifting) June 13, 2014
It has been happy days for Garrido, who was recently presented with a new wheelchair from Sparta Chile, after being elected as athlete of the month.
Un sueño cumplido muchas gracias a @SpartaChile por el valioso aporte entregado a este deportista antes de competir pic.twitter.com/RaeKcdyDeS

— juan carlos (@jcpowerlifting) June 10, 2014
The Team Chile captain was not the only Chilean to step up on the podium, María Antonieta Ortiz lifted 82 kg to achieve a Para South American record and take silver, while Jorge Carinao returned to action after missing the Santiago Games, winning the under 54 kg category with a lift of 133 kg.