Footbag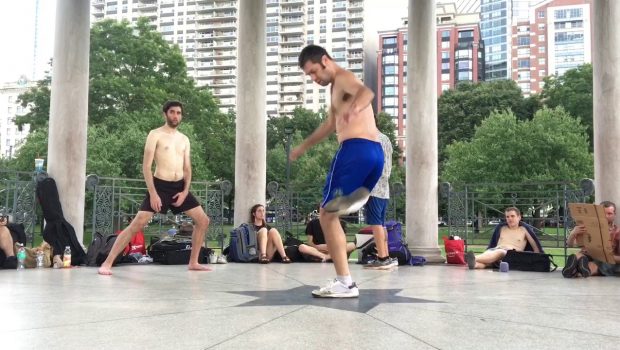 Published on September 8th, 2019 | by Daniel Boyle
1
Footbag on Instagram – August 2019
August 2019. Here are some clips from footbag players on Instagram from the past month, which saw Worlds and the US Open happening.
Here's a little clip from me to kick things off. Been spending a little time in Sydney lately.
Landes on location
An Idaho local (@idahopainter) caught sight of Nick Landes in action and shared his skills. Sounds like an Aussie in the backgrond saying "nice one mate".
Footbag Medellin Presente
A great shot of players after an exchange at the net. Some great photos and videos have been shared by "Bob" Fakoly and Sebastian Ceballos from their trip through Europe including the World Footbag Championships.
Hopefully we will all be visiting Colombia next year for the World Footbag Championships. An announcement should be made in the coming months.
Net shot
I am usually putting more videos and more freestyle in these columns, but there's been a few awesome still shots, particularly from Worlds.
Knee Stalls, Plenty of Them
Here's Travis Rayy with a whole heap of knee stalls. With the dreadlocks flying, Travis has shown huge amounts of improvement in the past year or so, he posts some big tricks on there.
Summer Footbag Show
Here are some footbag players of the future. Not a bad teacher in Pawel Nowak either. No wonder Poland has so many high level players when kids are learning from a young age.
Times Square Taishi
Taishi Ishida travelled from Japan to both the World Footbag Championships and the US Open, with some strong results.
Here is a great picture of him at the iconic Times Square in New York.
Dante by the Beach
Dante Diotallevi with a big combo by the beach, following a big win in request contest at the US Open. It looked like a great competition. There's some more highlights in the video at the top of the page.
Footbag by the River
Christoph Alexander and Sergio Garcia get in a post-Worlds session in Germany. I have been to Europe a couple of times for Worlds and it has been awesome meeting other players in nearby cities or countries around the time of the tournaments. The park looks like a very popular location and the graffiti wall worked really well as a background.
Shopping Skills
I'm surprised this one doesn't have a few more views. A guy drops something from his shopping, does a couple of juggles and puts it back in the bag. Reminds me of old threads on Modified about people trying to catch kitchen items with their feet and ending up with smashed glass everywhere.
Fire Hack – A Different Way
There's plenty of videos over the years of fire footbag, but this is something a little different – a few stalls with a fire staff, although not on fire at this point. Could be a cool combination.