Sports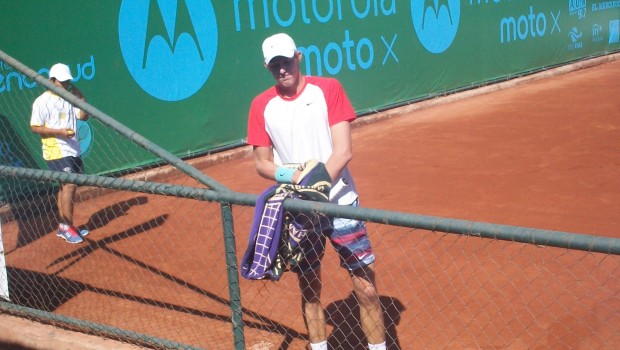 Published on October 3rd, 2014 | by John Lyons
0
Flourishing Jarry gives Chilean tennis a lift
The golden years of Marcelo Ríos, Fernando González and Nicolás Massú are fading into the memory, but there are promising signs for the future.
While former French Open Junior champion Christian Garín, 18, has long been touted as the natural successor to the former stars, fellow teenager Nicolás Jarry is beginning to steal the headlines.
The 18-year-old showed glimpses of his talent by reaching the the final of the Quito Challenger a couple of weeks ago.
It took the efforts of Argentina´s Horacio Zeballos – the man who famously beat Rafael Nadal at the ATP of Viña del Mar last year – to stop him taking the title.
However, this week it was Jarry´s turn for revenge. Showing that he´s a quick learner, the beanpole Jarry overcame Zeballos, ranked 98 in the world, 3-6, 6-3, 6-4 to reach the quarter-finals of the Cali Challenger.
That kind of victory shows that the grandson of Chilean tennis great Jaime Fillol has all the tools to go a long way in the game.
Unfortunately, he found the might of the Dominican Republic´s experienced Víctor Estrella (71) too much in the quarter-finals, succumbing 7-6 (6), 6-3.
Nonetheless, Jarry, 244 in the world and rising fast, has already done enough to suggest that he, Garín (298) and Chilean number one Gonzalo Lama (196), aged 21, represent a bright future for Chilean tennis.
*Top seed and Chilean number two Hans Podlipnik (223) was stunned by compatriot Guillermo Rivera in the quarter-finals of the Chile Futures 4 at Club Palestino.
Rivera (561) triumphed 4-6, 7-6 (6), 6-3 to set up an all-Chilean semi-final against Jorge Aguilar (397).
The experienced Aguilar, seeded four, reached the last four by brushing aside compatriot Matias Sborowitz (540), seeded eight, 6-1, 6-1.
The winner will face second seed Jose Pereira, of Brazil, in the final.