Freestyle Football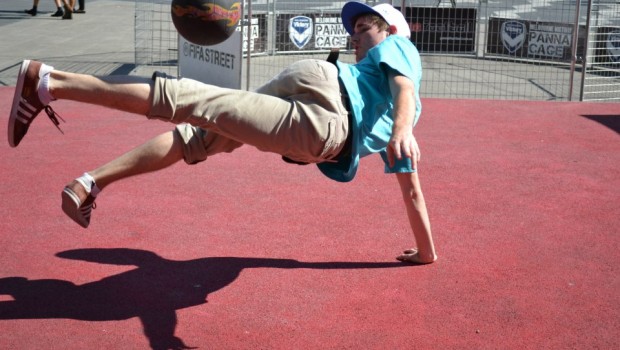 Published on September 20th, 2014 | by Daniel Boyle
1
Freestyle Football Interview – Olly Bowman
Sport/Life caught up with freestyle football player Olly "Funck" Bowman from New Zealand, who will be looking to defend his Oceania title on October 11 in Melbourne.
Olly has caught the attention of the world with his funky style, earning a place on the F3 World Tour. Sport/Life talked about how things are going in New Zealand and changes that have happened since he got involved in the sport.
How did you first get into freestyle football? How long have you been playing for now?
I started about 6 years ago in 2008. I was 17 at the time. i remember watching ronaldinho videos and feeling inspired. I remember catching the bus into the city and buying myself a new Adidas F50 ball. I spent the next few weeks trying to learn basic tricks, in this time i also discovered more about the sport and about the community of Freestyle. Discovering a network of New Zealand players which i could talk to and learn from.
What's changed since you've been involved?
Everything man! hahah, Personally my entire life has changed and revolves around Freestyle. It makes me who i am. As a sport. There has also been significant changes. The competitions which are available, the opportunities for Freestylers to travel and earn a living from this sport. Also when i started 6 years ago. I would have to be constantly explaining what Freestyle was to people. They had never seen anything like it. Now it is very globally recognized
We've got the Oceania Championships coming up, and you are hoping to defend your title. How has your training been going?
Very excited to be back to try and defend my title. My training has been OK. I have had a lot of other things going on right now and its only been in the last week or so that i have really thought about what i need to do to win this competition. But for me Freestyle is all about expression and creating with a ball. So i will bring my own tricks and my own style to the competition and i believe this will make me stand out… fingers crossed i can master my big moves in time.
How would you describe your style?
My style is Funky. Enough said
You are also preparing for the World Tour event in London. Tell us a bit about your World Tour experiences so far…
The World Tour has so far been incredible, a real eye opener for me. Iv always dreamed of being on the world stage and competiting against my idols. And it was a bit surreal to be honest. The first event in China was an experience which has made me re-think a lot of things. I performed very poorly so i am looking to rectify this in London and am more than confident!
What are your main goals in the sport and who do you look up to?
I want to be recognized world wide as the best in my style. I want people to be able to take inspiration from my achievements. I look up to French Freestyler "Andreas Cetkovic" This is a player who is completely overlooked by all the young guys these days. Andreas is a master, a creator. He fused freestyle with breakdance and created a whole style of Freestyle.
It is hard to do the tricks which no one has ever done before.. because you don't know if they are possible. You are not only taking the time to learn the trick.. but you are taking the time to creating the trick in your mind and this needs to be respected
Freestyle Football is becoming much more professional in the way the sport is run. What do you think needs to be improved in the sport? 
The attitude of some people in the community, i always see arguments and disrespect between freestylers. The whole competition "battle" format can be done so much better. I have a few ideas.. but i will not get into them now. The judging criteria needs to be looked at and made clear to all Freestylers
Are there many other players in New Zealand? Any up-and-comers to watch out for?
There are actually a good number of Freestylers. But sadly, they do not play very often and there are currently no young guys coming through…
You have joined the Oceania Federation. What do you think of the potential for freestyle football in the Pacific Islands, and for OF3 in general?
I think OF3 is much needed over this side of the world. It is something we have been lacking, A base for Freestyle where we can connect, imput our own ideas. And as one, i can see massive potential for the development and progression of Freestyle in Oceania. It is still early days, but as a federation, if we can do things right. I can see massive potential for this sport to find its way into Pacific Island countries. All you need is a ball.
What else are you into outside of freestyle football?
I enjoy relaxing, maybe going to see a movie with some mates. Seeing how many big macs i can eat in under 5mins……. I enjoy to Breakdance and always listening to old school funk music. Both these things influence my Freestyle so much when it comes time to train
I have seen some stuff of you with Phil Morrison – how do you go with the footbag? 
I am very fortunate to live in the same city as Phil.. a phenomenal footbag player. We have done a lot of shows together. To be honest i'm not so good with the bag.. but this style has influenced me a lot and you will see me perform a lot of clipper/eclipse combinations with the ball.
How many NZ titles do you think you will have by the time you retire?……… As long as there is an NZ championship each year. I will be there to do my best. It was an amazing honour the first time i won this competition and now i am 4x NZ champion, i want to hold this title for as long as i can
Anything else to add or anyone to thank?
To all the young freestylers out there, i encourage you to have fun with it and don't be afraid to do your own style.. Freestyle is about expression rather than progression!
Thank you for the interview… Thank you to OF3 for putting in the time to organize a competition for us. Really appreciate it! And thank you to all the freestylers who make this sport what it is. #alldayadidas
The Oceania Freestyle Football Championships will take place at Queensbridge Square in Melbourne on October 11.