Boxing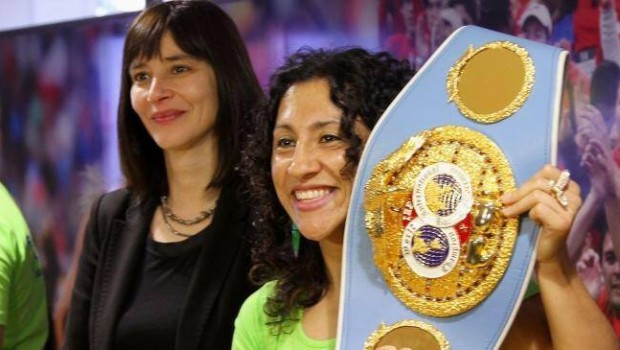 Published on July 28th, 2014 | by Daniel Boyle
0
Details Ready for Crespita Fight
With the days counting down until her title defence gets underway in Santiago, details for the fight between Carolina "Crespita" Rodríguez and Colombia's Dayana Cordero have been revealed.
With just over a week to go until the fight, concerns were raised that ticketing details were still unknown, but all became clearer at a press conference featuring the boxer and Sports Minister Natalia Riffo.
The IBF bantamweight title fight, which will take place on August 9 at 8:30 p.m. in the polideportivo at Estadio Nacional, with the event including 8 fights. Tickets, which are free of charge, can be picked up from the ticket booths at Estadio Nacional during the weekend of August 2 and 3.
The original opponent for the fight was Panama's Sayda Mosquera, but a change of plans has brought the young Colombian to Chile. At just 18 years old, Cordero is seen as a rising star of the boxing world, and is ranked 13th on the Boxrec listings, which provide statistics for boxers across all the different belts.
Rodríguez is on top of the list, while Mosquera, who Cordero finished level with in her previous meeting, is ranked 9th.
With 9 KOs to her name in a career spanning 13 victories, 4 losses and a draw, the young Colombian is noted for getting the job done quickly. On the other hand, "Crespita" only has one knockout to her name, but is undefeated in 12 starts.
Aside from support from the event, Rodríguez has received support of 10 million pesos for her career through Chile's Plan Olimpico.
The polideportivo, which was built for the South American Games, played host to the gymnastics during that event and it is hoped that more large-scale sporting events will be held there in the future.