Snow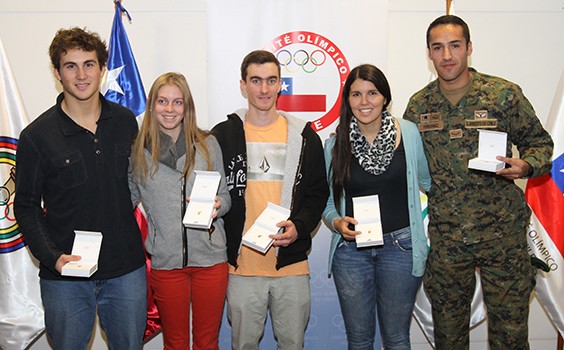 Published on June 14th, 2014 | by Daniel Boyle
0
Chile's Winter Athletes Receive Olympic Pins
With the winter season kicking off, Chile's winter Olympians had a reunion, receiving their Olympic pins from Olympic Committee president Nevin Ilic.
Five of the six athletes that participated in Sochi took part in the ceremony, with Noelle Barahona receiving her third Olympic pin at just 23 years of age.
On the theme of pins, earlier in the year, Barahona said to Sport/Life, "Athletes around the village do this thing were we collect pins from different nations. I ran out of pins from Chile on the very first day and people ask me daily for pins. I think it's awesome that even though we don't have any insanely good athletes winning medals, still other countries recognise the effort we put into coming here."
Barahona made her Olympic debut at 15, a feat no longer possible in the alpine events, meaning the La Parva skier will remain the youngest alpine athlete to participate in the Winter Olympics.
Dominique Ohaco, who just missed a place in the finals in the Slopestyle event, was happy to receive her pin. "I'm happy that they've made this recognition, this helps us remember a moment that was so important in our lives. It was such a great experience, I can't ask for anything better. An unforgettable experience, that I enjoyed to the maximum," the youngster said.
Soldier Jonathan Fernández, who attracted attention when he had to resort to training on the roads of Vitacura in the weeks before the Games, described receiving the pin as a pleasure.