Rugby
Published on February 12th, 2014 | by Daniel Boyle
0
Chilean Rugby Teams to Prepare for Odesur in Temuco
Temuco will play host to an international Rugby Sevens tournament, with teams from as far as Trinidad & Tobago making the journey for the tournament.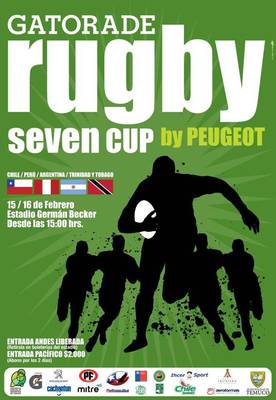 Temuco, which answered the last minute call to host the Junior World Rugby Trophy in 2012, will once again play host to an international tournament. Neighbours Argentina and Peru will join Los Condores in preparation for the South American Games, while Trinidad and Tobago will also be part of the "Rugby Seven Cup".
The Caribbean team will use the tournament as preparation for the Hong Kong Sevens as well as the Commonwealth Games. The inclusion of Rugby Sevens at the 2016 Olympics has given extra incentive for teams from around the world to add extra focus to the format.
Chile's men's team will also compete in Hong Kong after their heroics at the annual Viña Seven tournament. Each of the players involved received the use of a Peugeot car for one year. Peugeot have also put their support behind the Temuco tournament. Chile will face Russia, Zimbabwe and Barbados in their group at the end of March.
In the women's event, Chile and Argentina will be joined by two regional selections. The tournament will take place on the weekend of February 15 and 16 at Estadio Germán Becker in Temuco, kicking off at 6 p.m. on Saturday.