Rugby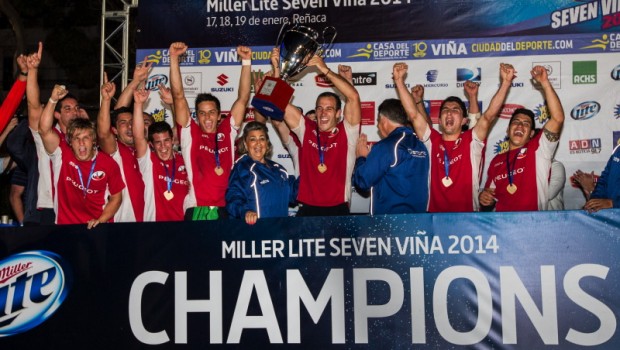 Published on January 20th, 2014 | by John Lyons
4
Cóndores are in seventh heaven
On a fantastic weekend for Chilean sport, the men´s seven-a-side rugby team added to the success story by winning the Miller Lite Seven Viña 2014.
Reñaca – Indeed, los Cóndores couldn´t have done it in better style as they won all their matches and qualified for the Sevens World Series that will be played in Hong Kong.
Chile went into the tournament at Colegio Mackay in Reñaca in confident mood, but couldn´t have dreamed that things would go as well as they did.
On Saturday, they thrashed Peru 45-0 and, more notably, took the scalp of Argentina for the first time, winning 21-7.
Those results set things up nicely for Sunday´s finale. Chile began well with a routine 33-0 victory against Brazil.
Then came a nail-biting 19-14 success against Uruguay, which booked the Hong Kong tickets. Chile trailed 14-12 before a late Tomás Ianiszewski try turned the match around.
The round robin format meant that Chile had to confront Argentina again with the title up for grabs. In a hard-fought contest, it was ´los Cóndores´ who came out on top 7-5 thanks to a converted Francisco González try.
It meant Chile finished first, Uruguay second and Argentina third.
Chile coach Edmundo Olfos said: "The key is that each individual helps make a team. We are 12 in total and no-one stands out more than anyone else."
Delighted captain Felipe Brangier said: "We achieved what we set out to do – to win the tournament and gain a place at Hong Kong.
"Now we need to stay preparing to earn a medal for the country in the South American Games."
Meanwhile, Chile are keen to build on their sevens success by applying to host a round of the Sevens World Series.
They are optimistic that, if successful, this could happen next year or in 2016. It would bring some of the best teams in the world to Chile and be a big boost for Chilean rugby.