Sports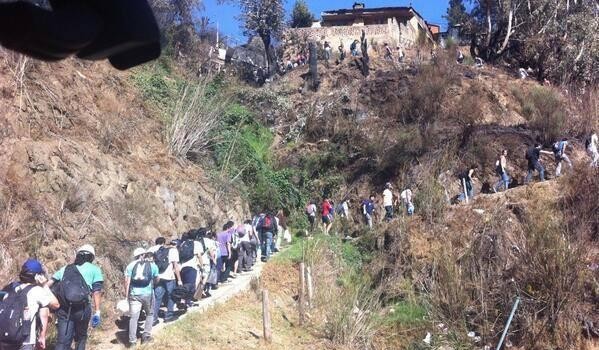 Published on April 18th, 2014 | by Daniel Boyle
0
Chilean Athletes Lend a Hand After Valparaíso Fires
As the cleanup efforts continue after a series of devastating fires in the hills of Valparaíso, the Chilean community has chipped in to support. Chile's sportspeople have not been absent from the efforts.
Through the initiative of DAR Chile, Radio Sport and the Olympic Committee saw huge amounts of cleaning materials, school books and other useful goods in beginning the rebuilding efforts taken by the athletes themselves to the port city.
Among those involved were representatives from Chile's women's hockey and handball teams, with "Team Chile", the seleccion de todos deportes uniting once again.
Parte de nuestra selección, entregando lo recolectado en campaña #AtodoDARconValpo de @DARChile_ y @RadioSportChile pic.twitter.com/9mj7s3YwA2

— Las Lobas BM CHILE (@BM_LasLobas) April 17, 2014
Orgullosa de ser deportistas. @DARChile_ En camino a Valpo #AtodoDARconValpo a entregar amor! @pamito2 @RadioSportChile @SomosTeamChile — Claudia Vera (@ClaudiaVeraR) April 17, 2014
Among those helping bring some joy to the porteños during the week was current Davis Cup captain Nicolás Massú. The dual Olympic gold medalist took part in tennis workshops at Escuela Grecia, which is one of many shelters for people who have lost everything.
Jugando mini tenis con los niños albergados en la Escuela Grecia en Valparaiso pic.twitter.com/acZuJQEGTg

— Nicolas Massu (@massunico) April 16, 2014
Chilean freestyle football players also gathered in Valparaíso to show their skills alongside jugglers and other performers in an effort to cheer up residents of the city.
Among others involved in the cleanup were the Valpo Surf Project, an innovative project that works with children in the hills of the port city to teach English, environmental awareness and surfing.
The highest profile relief efforts have been from the professional football players. With Santiago Wanderers players getting into the cleanup effort, while archrivals Everton brought supplies to the Wanderers home base to help with the rebuilding.
Everton's vital match against Ñublense will no longer be played in Valparaíso, though Santiago Wanderers will play their match on Monday at Estadio Elías Figueroa.
All proceeds of the match will go to victims of the fire, while transport will be provided into the affected hills to give free entry to the game to victims of the fire. David Pizarro, one of the club's biggest ambassadors, has announced that he will match the amount of money raised on the day of the match.