Basketball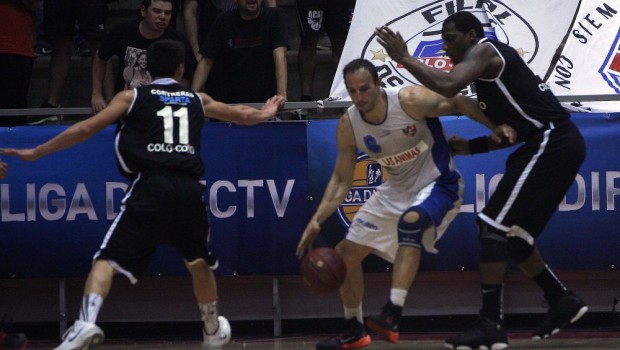 Published on November 9th, 2014 | by John Lyons
0
Magnificent Las Ánimas shock Colo Colo
Televisión Nacional´s live coverage of the Liga Nacional DIRECTV basketball started with a bang as Las Ánimas pulled off a stunning 83-67 victory at Colo Colo.
Heading into the game at the CEO II in Ñuñoa, Colo Colo lay fifth in the table with a 7-3 record, while the visitors were eighth with 4-6.
However, the Valdivia-based side turned the form book on its head by storming to victory in front of the TVN cameras.
With Colo Colo struggling to put their game together, Las Ánimas built a 44-34 lead by the half-time break.
The noisy home fans hoped for a second half comeback, but it wasn´t to be. In fact, Las Ánimas virtually sealed the game in the third quarter. With the albos´ shooting going from bad to worse, an inspired Las Ánimas capitalised on every mistake as they executed a perfect game plan.
Las Ánimas extended their lead to 65-45 to leave Colo Colo shell-shocked. The hosts tried hard in the last quarter to cut the deficit, but could only do so by four points as the visitors cruised to victory.
Cuba´s Alex Carcamo (16 points and 21 rebounds), Spain´s Ismael Torres (22 pts and eight rbs), Ronald Cruces (13 pts and four assists) and Christopher Altaner (15 pts, five out of six with three point attempts) all starred as Las Ánimas turned in a superb team performance.
O´Louis McCullough notched 26 points for a well-beaten Colo Colo.
The albos will seek to get back to winning ways when they host Puerto Montt this evening, while Las Ánimas will bid to make it two wins on the road this weekend when they visit Puente Alto. Both matches are at 7pm.