Football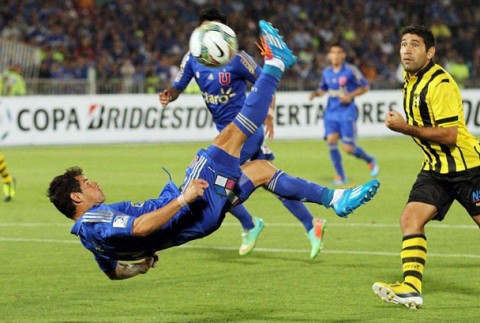 Published on January 30th, 2014 | by Daniel Boyle
0
Rodrigo Mora Chilena Saves Universidad de Chile
Uruguayan striker Rodrigo Mora gave Universidad de Chile the advantage over Guaraní in the first leg of their Copa Libertadores clash.
While the azules have been regular features in recent Copa Libertadores, they have gone about things the hard way, only qualifying after winning the post season liguilla to take the Chile 3 place. With Johnny Herrera and Juan Rodrigo Rojas missing from the lineup after their antics in La U's fall from the Copa Sudamericana, new coach Cristian Romero made some changes to his squad, including bringing in Mora to the starting lineup in favour of Isaac Díaz.
Each team wasted clear opportunities, but the moment from Mora early in the second half was one for the highlight reels. After receiving a ball on the chest from Ramon Fernández, the former River Plate man didn't think twice about his next shot, with the chilena first bouncing of the post and into the back of the net.
If Universidad de Chile progress to join O'Higgins and Unión Española in the group stages, their could be consequences for the fans, with the match being stopped due to flares in the crowd.  The five minute stoppage could bring consequences for the club, who have had a recent history of trouble, particular in opposition matches.
Universidad de Chile will travel to Paraguay next Thursday to play the second leg and will hope to keep their advantage.