Footbag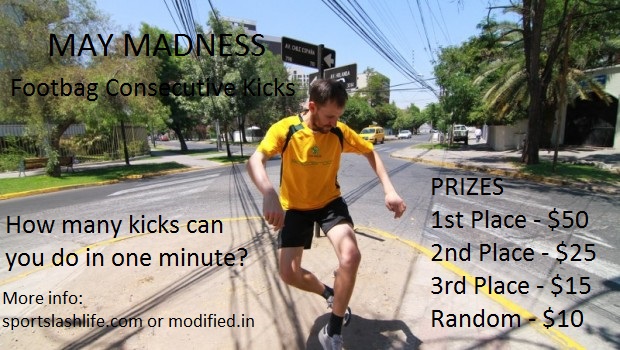 Published on April 30th, 2020 | by Daniel Boyle
5
May Madness Footbag and Hacky Sack Consecutive Kicks Competition
Footbag consecutive kicks competition. How many can you do in one minute?
With most people only being able to go outside for essential purchases and some exercise, the footbag community has come together with some online competitions.
There have been weird trick competitions thanks to Matt Cross, pendulums galore due to Derek Littlefield's competiton and a Sick 5 event from Mark Monistere.
This event is open to anyone and I welcome those who are into jianzi, freestyle football, takraw and other kicking sports. You will need to use a footbag – can be any kind, including net bags.
There are some rules to the competition.
It is one minute consecutive kicks. Your minute begins from your first kick.
You may enter as many times as you like. However, if you have the top 3 scores, you will only get one prize.
You must kick the bag. No stalls. Upper body fouls, alternating feet and drops will only be considered for the top positions. There will be no penalties in general – just see how many you can do.
The purpose of this event is to get as many people as possible involved. Timed consecutive events normally go for 5 minutes, but a minute event gives more people a chance to have a go and share their video.
Don't be embarrassed if you think your amount is too low, or there are too many drops. Have some fun with it and see how you go.
Please upload a video of you kicking. Preferably on Youtube or Instagram. It must be fresh material, filmed in the month of May.
The competition ends on May 31. There will be a grace period of 24 hours if you need that time to upload your video and also to cater for time differences.
For a bit of inspiration, here are world record holders Andy Linder and Ted Martin on a school visit.
In your entry, please tell us a little bit about yourself. This could be in the description of your Youtube or Instagram video, or in the video itself.
To enter, have your name, where you are from, how many kicks you have done and something about the bag you use.
Example: Daniel Boyle, Canberra Australia, 84 kicks, Hania bag.
Prizes
1st Place – $50.
2nd Place – $25
3rd Place – $15
Random Prize – $10
If you would like to donate a bag or anything else to add to the prize pools, feel free to contact me. Prizes will be in $US and paid via Paypal.
There will be a thread on the Modified.in forum keeping track of the results and I will update regularly through this site as well.
Keep on kicking!