Footbag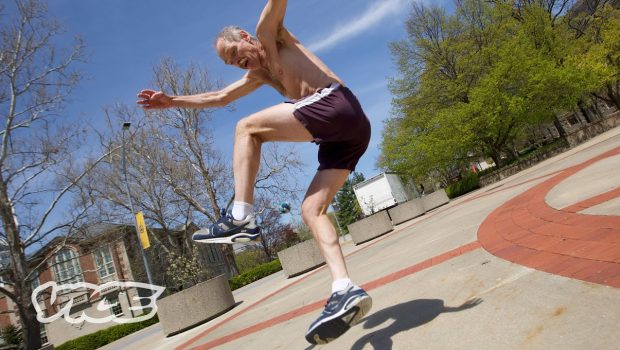 Published on June 5th, 2021 | by Daniel Boyle
0
Vice Makes Hacky Sack Man Derrick Fogle Local Legend
Footbag Hall of Fame Member Derrick Fogle has been featured on a Vice series of Local Legends for the impact "Hacky Sack Man" has on the community.
As the "Hacky Sack Man", Derrick Fogle has been an ongoing feature on campus in Missouri, particularly in places like Speakers Circle. A recent Vice profile has him as a "Local Legend".
Something very impressive about the video was the way that Vice captures the positivity that the rest of the community feels for the "Hacky Sack Man". Derrick Fogle is already a legend within the footbag community, having been inducted into the Hall of Fame in 1995 and more recently putting himself into the Guiness Book of World Records for distance travelled with a footbag. Fogle was an early pioneer in consecutive kicking, having previously held the world record for the 5 minute timed event.
SETTING A WORLD RECORD
Two years later, partly goaded on by the Vice Local Legends project, I finally put together a little video of me setting a new Guinness World Record Title for Distance Traveled in One Hour While Controlling a Footbag: https://t.co/M7yq76P8nd

— Derrick Fogle (@h4x354x0r) May 20, 2021
Thanks for the tweet-out, now go find your Hacky Sack!

— Derrick Fogle (@h4x354x0r) June 1, 2021
In the clip, Fogle recommends people to "find your Hacky Sack" – find something you are completely interested in an immerse yourself in it.
Oh my god this is absolutely amazing please everyone watch this, such an incredible human being, I've literally never been so proud to be a Tiger https://t.co/YXbqXpKOjx

— G∆GE CRUM #BLM (@gage12crum) June 2, 2021
You know how people always say the way someone treats the waitstaff reveals their true personality? Hacky Sack Man is the Mizzou version of that. If someone spoke badly about him or gave him grief, they weren't worth your time. https://t.co/z7hx85sf1q

— Brooke Shoopman-Kocher (@b_shoopman) May 30, 2021
There has been a very positive response from the student community. The other reason for his legendary status within the footbag world is he is still going at a strong level after playing for so many years.
Here's to many more years of kicking for the legendary "Hacky Sack Man".