Sports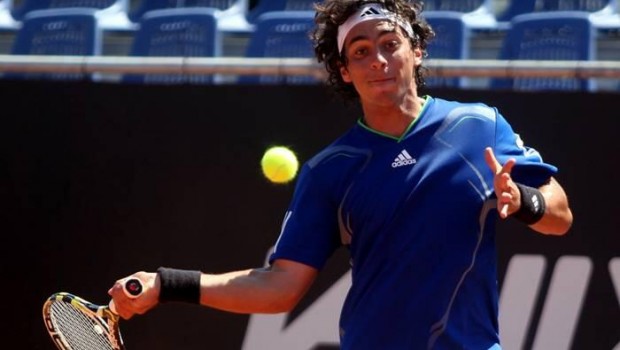 Published on April 4th, 2014 | by John Lyons
0
Lama and Garín shine against Paraguay
Gonzalo Lama and Christian Garín both notched up victories as Chile finished the first day of their Davis Cup tie against Paraguay 2-0 up.
Las Condes – Lama was the first to enter the fray and the 20-year-old had little difficulty in overcoming his unranked opponent Juan Borba at Club Palestino.
The Chilean number three (312) cruised to a 6-3, 6-0, 6-1 victory against the 17-year-old Paraguayan.
Lama is of Palestinian descent on his father´s side and Club Palestino is where he first started playing tennis, so the victory had extra significance.
He said: "The fact that the match was here and my family could see my play leaves me tremendously happy and proud.
"I´m very happy with how the game went. I didn´t feel very comfortable in the first set, but after that I didn´t have major problems.
"The important things is that my shots are doing more damage each time and that makes things difficult for my opponents."
Lama also thanked captain Nicolás Massú for having the confidence to pick him and give him the opportunity to play for his country.
Team-mate Christian Garín also tasted success, though he had to work a bit harder than Lama.
The 17-year-old came into the match with a 1-5 Davis Cup singles record and it looked as though it could get worse when he lost the first set 6-4 to Gustavo Ramírez (1,818).
However, Garín stepped up a gear after that and won the next three sets 6-3, 6-0, 6-3 to give Chile a commanding lead in the Americas Zone Group II tie.
In fact, it´s the first time since 2010 that Chile have arrived to Saturday´s doubles with a 2-0 advantage.
Chilean number one Paul Capdeville and the experienced Jorge Aguilar are expected to play the doubles tomorrow. A victory would wrap up the match and ensure Chile avoid relegation to Group III, the fourth division of world tennis.
*Daniela Seguel and Cecilia Costa both lost in the second round of the ITF of Medellin tournament in Colombia.
Chilean number one Seguel went down 6-1, 5-7, 6-4 against Argentina´s Maria Irigoyen, the fifth seed, while Costa lost 6-4, 6-3 to Italy´s Gaia Sanesi.
The Chileans lost 6-1, 6-1 to Irigoyen and Irina-Camelia Begu (Romania), the top seeds, in the women´s doubles.