Sports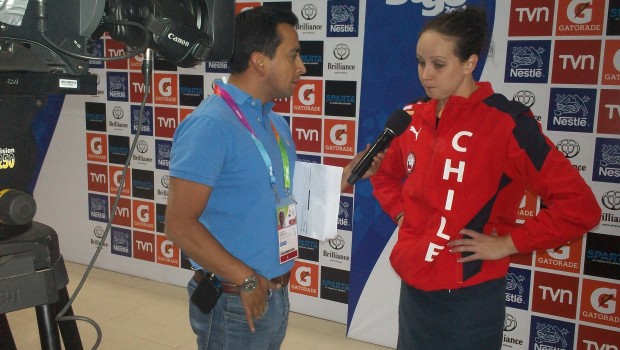 Published on March 8th, 2014 | by John Lyons
0
Impressive Pinto thwarts Kobrich again
Kristel Kobrich must be beginning to hate the sight of Andreina Pinto.
Santiago – For the second night running, Chilean number one Kobrich was denied South American Games gold on home soil by the Venezuelan swimmer.
On opening night, Pinto came home first in the 400m freestyle, but Kobrich, 28, hoped to turn the tables in the 800m.
The final was nip and tuck for the first 600m and the packed crowd at the Centro Acuático were egging Kobrich on.
However, things started to unravel between 600 to 700 metres. Pinto established a lead of a second and put clear water between herself and her Chilean rival.
In the end, the 22-year-old claimed her second gold medal of the Games with a time of 8mins 35.41secs.
Kobrich was almost two seconds behind with 8.37.19, while Argentina´s Cecilia Biagioli took bronze with 8.45.68.
"I fought for the gold, but simply she beat me," said Kobrich afterwards.
Later on, Pinto made it a hat-trick of gold medals by winning the 400m individual medley with a time of 4.51.17. Argentina´s Virginia Bardach scooped silver with 4.52.94 and Brazil´s Julia Benvenutti came home third in 4.55.36.
A tiring Kobrich was never in the hunt and finished sixth in 5.02.26.
It proved to be a good night for Venezuela as Alberto Subirats also scooped gold in the men´s 100m backstroke. He clocked 54.31secs.
Brazil also bagged three gold medals. Leonardo De Deus triumphed in the men´s 200m butterfly with 1.57.84 and Larissa Martins De Oliveira won the women´s 100m freestyle in 55.70secs. In addition, Brazil won the men´s 4x200m freestyle relay with 7.25.35.
Colombia and Argentina also picked up gold medals on a night when the medals were shared around. Colombia´s Carolina Colorado took the women´s 200m backstroke with 2.14.42, while Argentina´s Martin Naidich proved the top man in the men´s 400m freestyle by clocking 3.56.23.