Athletics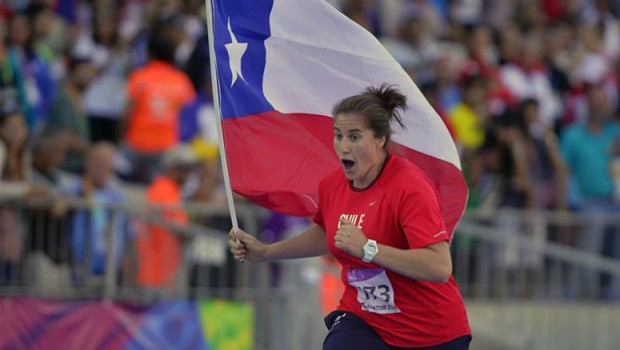 Published on March 15th, 2014 | by John Lyons
3
Golden Gallardo laps up every moment of her discus triumph
Karen Gallardo earned Chile´s first gold medal in athletics at the South American Games – and celebrated with an exuberant lap of honour.
Ñuñoa – Gallardo turned 30 just ten days ago and gave herself a belated birthday present with her throw of 59.65 metres in the discus.
It proved enough to hold off the challenge of Argentina´s Barbara Comba (59.29m) and Brazil´s Fernanda Borges (56.08m), who won gold in Medellin four years ago.
It was Gallardo´s second South American Games title – she also won in Buenos Aires in 2006 – but this one was all the sweeter because it came on home soil.
Around 20,000 fans packed into the Estadio Nacional for a big night of athletics and they were desperate for some Chilean success to cheer.
With information in the arena a little thin on the ground, it wasn´t until the final result popped up on the giant scoreboard that most of the public realised she had won. With the crowd going wild, an ecstatic Gallardo set off on her joyous lap of honour with Chilean flag in hand.
She did a sprint finish, she jumped on the pole vault mat and savoured every moment of her success.
"I´m never going to forget this lap of honour," she said. "I thank everyone, above all the public that supported me in every moment."
Later on, she returned to collect her gold medal, hear the anthem and receive the acclaim of the public again.
Aside from Gallardo´s gold, Chile picked up three silver medals on a busy night. Gonzalo Barroilhet finished second in the decathlon, Javiera Errazuriz did likewise in the women´s 400 metre hurdles and the women´s 4x100m relay team were pipped for gold by one-hundredth of a second by Venezuela. Chile's time of 45.09 seconds was a new national record.
There were other notable performances, too. In the women´s 200m final, Maria Mackenna and Isidora Jiménez finished fourth and fifth respectively.
Gustavo Gutierrez came fourth in the men´s 400m hurdles, while the men´s 4x100m relay team were just edged out for bronze by Colombia.
One of Chilean athletics´stalwarts, Erika Olivera, 38, came sixth in the women´s 5,000m.
Some of the biggest cheers of the night were reserved for decathlete Matías Dallaserra, who won the last event of the competition, the 1,500m, on his way to fifth place. However, no one could top Gallardo's achievement.