Sports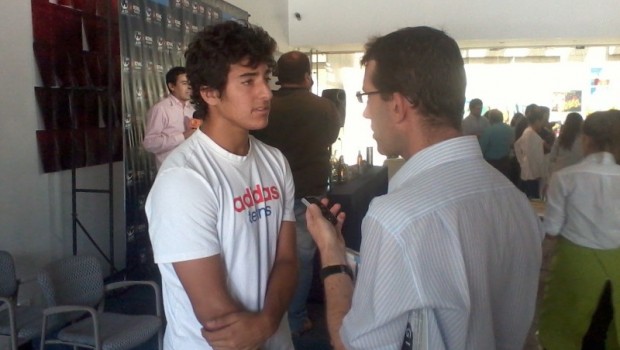 Published on February 26th, 2014 | by John Lyons
0
Garín proves too strong for compatriot Malla
A tight first set proved crucial as Christian Garín beat Bastian Malla in the battle of the Chilean teenage tennis starlets
Ecuador – The 17-year-olds were drawn together after winning three matches apiece in the qualifying rounds of the ATP Challenge of Salinas and an exciting match was predicted.
The first set, in particular, lived up to expectations as the teenagers traded blows. It was no real surprise that it went to a tie-break and even then it was hard to split them.
Eventually, Garín claimed a hard-fought breaker 9-7 to take a crucial advantage. In comparison, the second set proved a much more comfortable affair for the highly-rated Garín, who took it 6-2 to advance to the second round.
Garín´s victory was no real surprise given the difference in ranking between them, 402 to 739, though Malla showed enough to suggest he is heading in the right direction.
Garín faces a tough test in round two today when he locks horns with Argentina´s Renzo Olivo, ranked 199, on centre court. The match takes place at 1pm Chilean time.
Garín is the last Chilean remaining in the competition after Gonzalo Lama exited in the first round. The Chilean number two (293) lost to second seed Andrej Martin (139) 6-3, 6-2 in just under an hour.
Meanwhile, two Chileans will be in action in the first round of the Future 7 in Egypt´s Sharm El Sheikh today. Top seed Hans Podlipnik (301) faces Argentina´s Matias Castro (1,037), while David Fleming (1,469) is up against Russia´s Ilya Vasilyev (1,325) in a match between two qualifiers.
Fleming had to win three qualifying matches to reach the main draw. He beat Switzerland´s Adrian Bodmer 5-7, 6-2, 6-2, Canada´s Rached Rihani 6-1, 6-3 and Italy´s Riccardo Bonadio 7-5, 6-2.