Football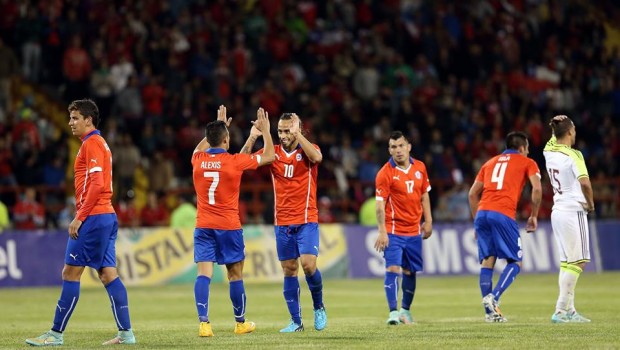 Published on November 15th, 2014 | by Daniel Boyle
0
Fantastic Five for Chile Over Venezuela
The vinotinto barely offered a challenge to Chile, who showed their attacking brilliance with five unanswered goals, a great sign ahead of next year's Copa América.
With Jorge Valdivia back into the squad, Chile's attacking weapons made the first inroads to the opposition goal. In fine form for Arsenal, Alexis Sánchez opened the scoring with a headed goal, though Gary Medel was also challenging to add the finishing touch after a lofted Arturo Vidal ball was tapped across by Eugenio Mena.
"El Mago" showed he was truly back with what commentators described as un gol imposible, curving the ball from what looked like a cross, to bounce of the far post and into the goal. A long range effort from Eduardo Vargas beat some lazy defenders and saw the score increase to 3-0.
The beating didn't stop there though, Rodrigo Millar put his first touch into the back of the net, finishing off a movement which saw the ball ricochet off players from both teams. With the game well and truly decided, Pedro Pablo Hernández added a fifth goal.
Coach Jorge Sampaoli was pleased with the action that took place on the field, valuing the return of Valdivia, as well as the strong level shown by stars Sánchez and Vidal. He also noted the efforts of young defender Igor Lichnovsky. Having brought the former under 20 captain through the grades at Universidad de Chile, Sampaoli knows what to expect from the youngster.
"I can say we had the chance to follow him at Porto B and we are searching for alternatives in the last line. We are looking for players who can enhance that sector. Today he played a correct game against a team that goes well in the forwards," said Sampaoli after the match. With Marcos González spitting the dummy after his non-selection for the World Cup, Lichnovsky's potential to play in the Copa América is only increasing.
Chile will now prepare to face Uruguay, who will be without Luis Suárez. The Barcelona man will be suspended for the Copa América, so coach Óscar Tabárez is looking for new options up front. Uruguay will be looking to make amends after falling to Costa Rica on penalties. The match finished 3-3 after regulation time.
The absence means there will be no re-acquaintance between Suárez and Gonzalo Jara, with the pair coming to blows during the World Cup qualifier in Santiago.