Tennis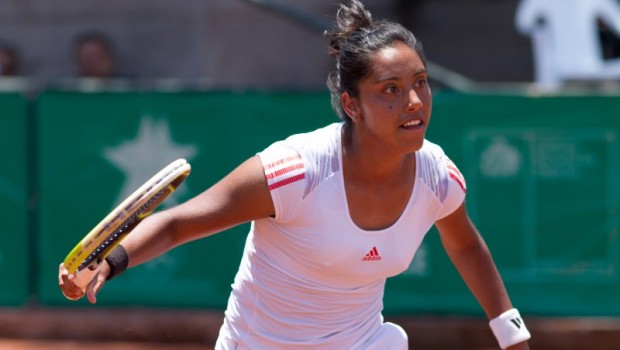 Published on December 4th, 2014 | by Daniel Boyle
0
Chileans Disappoint in Copa Providencia
The courts of Club Providencia are hosting Chile's most important women's tennis tournament, but Fernanda Brito is the only player flying the Chilean flag.
The $25,000 Copa Providencia tournament attracts players from around the world, with Argentina's Florencia Molinero the top seed. No Chilean has reached the quarter final, with Chile's best ranked player Andrea Koch retiring from her match. It was the same fate which fell Fernanda Brito, who was unable to handle the workload of singles and doubles.
After winning two titles in Peru with Eduarda Piai, Brito has joined forces with the Brazilian once again, and has reached the final in the doubles.
Daniela Seguel was another disappointment in the singles tournament, after overcoming a scare against young qualifier Daniela Lopez, "La Pantera" had no growl against Dalila Jakupovic, going down in straight sets 6-4, 6-3. After an easy first two rounds, the Slovenian will have a greater challenge on her hand, taking on top seed Molinero.
The 26-year-old, currently ranked  is seeking her first singles title for the year. Molinero is looking for her tenth career title, with five coming from the $25,000 tournaments. Molinero has also collected five doubles titles in 2014.
Second seed Bianca Botto fought to beat Argentina's Sofia Blanco in the first round, before eliminating local Barbara Gatica in straight sets. The Peruvian will now face Alexa Gaurachi (USA) in the quarter-final.
The tournament will continue until December 7.
In Osorno, Chile's representatives are doing much better, with top seeds Hans Podlipnik and Cristobal Saavedra both through to the quarter-finals. Julio Peralta, who came through the qualifiers, beat countryman Guillermo Rivera to reach the quarters. The only other seeded player remaining in the Chile F9 tournament is Japan's Ryusei Makiguchi. He will be looking for a third Latin title, after lifting trophies in Argentina's F14 and Bolivia's F1 competitions.
Podlipnik remains Chile's best on the ATP rankings despite a fall to 211. He is four places ahead of Gonzalo Lama (215), with Nicolas Jarry completing the podium in 223.