Tennis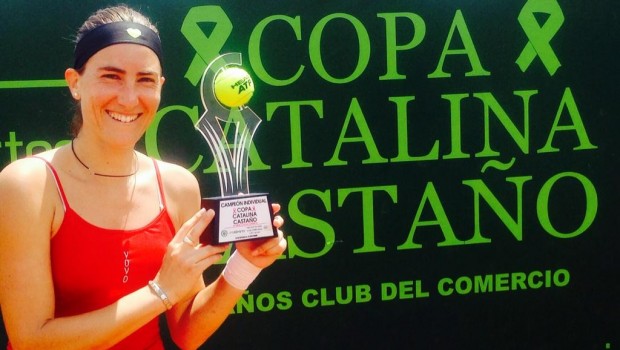 Published on October 26th, 2014 | by Daniel Boyle
0
Champion Week for Chilean Tennis
As the competition throughout South America intensifies, three Chilean players lifted a trophy. Nicolás Jarry, Andrea Koch and Juan Carlos Sáez were all champions of their respective events.
Jarry continued his impressive run of form, and did one better alongside Brazil's Marcelo Demoliner. The delighted pair celebrated after overcoming another mixed Latin pair. The combination of Juan Ignacio Londero (Argentina) and Hugo Dellien (Bolivia) were unable to overcome the fourth seeds.
After taking the first set 6-3, the second set was a tighter affair, eventually won 7-5. It is Jarry's second Challenger doubles title, with his first coming in Santiago after the withdrawal of Hans Podlipnik through injury.
It his fourth title of the year in Doubles, with his meteoric rise in the rankings likely to continue. It was the sixth career title for Chile's top ranked doubles player.
Colombia was the location For Koch's latest triumph. Having returned to Chile's number 1 position, the veteran player has looked to improve her ranking and stay above Daniela Seguel. It was a 14th title for Koch, with the Pereira victory adding to wins in Quito and Santa Cruz. It equals her 2013 haul for most titles in a year.
Feliz feliz feliz! CAMPEONA. 14vo título y un muy buen año. Muchas gracias @ORSChile @NDeportes @adochile @SomosTeamChile @vovochile etc.!!

— Andrea Koch (@kochtenis) October 25, 2014
16-year-old Nicole Frenkel (USA) was no match for the Chilean, who powered through in straight sets to win 7-6(1), 6-2. An impressive tournament saw top seed Koch win each match in straight sets. Her opponent, ranked 1,203, was always at long odds to win, but had an impressive tournament after winning through the qualifying tournament.
Not wanting to be left out of the celebrations, Juan Carlos Sáez was the winner in Peru's F9 tournament. The Peruvian courts have been happy hunting grounds for the young Chilean, who picked up his second title of the year, with both wins coming in Peru. The 23-year-old now has five singles titles to his name.
Monaco's Benjamin Balleret was the opponent and Sáez got off to a rough start, losing the first set 6-4. He steadied and controlled the match to win the next two sets 6-1, finishing with a scoreline of 4-6, 6-1, 6-1. Sáez was seventh seed in the tournament and had a slight ranking advantage over his opponent.
The victories show strong signs for Chilean tennis, with hopes that the wave of current successes at the lower levels will continue to build. Nicolás Massú will be likely to look towards Jarry as his main man to anchor the Davis Cup team, which will host Peru in March 2015.