Rugby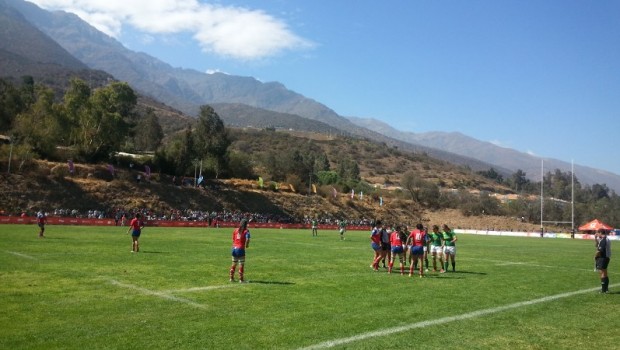 Published on March 16th, 2014 | by Daniel Boyle
0
Australia Helping Grow Rugby Sevens in South America
Sport/Life was in touch with Dale Roberson, Australia's main man in the development of Rugby Sevens, who was recently in Brazil using rugby to help build ties between Australia and Latin America.
– You've just been in Brazil, how was the experience and what were you doing there?
I had a great experience in Brazil. The purpose of my visit was to conduct some 7s coaching education sessions with South American coaches. The visit was scheduled at the same time as the Australian Women's Sevens team were in Brazil to compete in the Women's IRB Sevens series. The project was supported by the Australian Government Department of Foreign Affairs and Trade to help build relationships with South American countries. The visit included the following:
– Australian Rugby Union Senior Sevens Coaching Course
– Attending Australian Women's Sevens training sessions
– Question and Answer with Australian Women's Sevens coach and players
– Attend the Brazil IRB Women's Sevens Series
– Rugby Sevens has been added to the Olympics, have you seen an increase in participation since the announcement?
Rugby Sevens has seen strong growth in Australia since the announcement of 7s being included in the Olympic in 2016. My position was created in 2011 to help drive programs to support 7s participation across Australia.
– Who do you see as the key players in Sevens within South America?
Brazil and Argentina.
– The trip was funded by a COALAR grant, how has what you have been doing helped integrate relations between Australia and Latin America?
We have provided opportunities for South American team coaches to learn how a tier 1 Rugby nation approaches the coaching and development of 7s Rugby. This experience will hopefully help these coaches with their own programs and hopefully lead to improvement in the lead up to the Olympics and beyond. Already some countries are looking at opportunities to come and train and play in Australia following the visit.
– How is Australia currently placed in terms of Rugby Sevens? 
We have made some good progress in the Seven space, in saying this, we are committed to growing our participation base in new markets especially women so that we will see long term benefits across all Rugby in Australia.
– How will the qualifying for the Olympics work? Will we see some surprises in the final competition? 
I believe it will be based on the IRB 7s series and also a qualification process based on geographic regions such as Asia Pacific etc.
– There has been talk of Argentina and other South American nations holding major Sevens events? Which countries are best placed for this?
Obviously Brazil is well placed, the event recently held was a great success and I am sure this could be replicated around South America with the access to football grounds that currently exist. Argentina regularly hosts international Rugby matches also. I am not overly familiar with Chile and Colombia so couldn't comment on these unfortunately.
– What is your background in Rugby? How did you come to be working with Sevens?
I have been involved in Rugby development roles since finishing university. Over time I have been lucky enough to move in to a specific 7s role with the ARU and this has been my role for the last 3 years. The program is exciting as it is new and has many different areas such as growing participation, creating 7s coach education, developing pathways to national teams and developing a non-contact format of the game.
– There is a new Rugby League initiative called the Latin Heat, bringing together players with Latin American heritage in Australia. Do you see opportunities for collaboration with them?
I would be happy to support this program for sure.
– The COALAR grant also gave scholarships to young players from poor backgrounds in Colombia. What is the potential for Colombia, who have shown a great focus on sport in recent years?
Colombia have made significant ground over the past few years, they have good coaches in place and I am sure as they identify more players they will continue to challenge the like of Argentina and Brazil.
– What is the future for cooperation between Australia and Latin America in Rugby and other sports?
I would hope that a strong relationship could be built between Australia and Latin American countries across a variety of sports. Most countries have sports that they are traditionally strong in and it is always great when opportunities arise for sharing of knowledge, not only between the same sport but also different sports such as Rugby learning from Football and vice versa.
– The South American Games in Santiago will feature Rugby Sevens, do you see this as a good test for how the tournament will function in Brazil?
The good thing about a Rugby 7s tournament is that the model doesn't change. It is 16 teams, played over 2 days which means this can be replicated quite easily. I am sure the South American games will be a great dress rehearsal for Brazil.
– Any players to look out for from South America?
I am sure there are but I have only had limited time in South America so can't comment unfortunately. One thing I do know is that 7s players require speed, power and good evasion skills which I see quite often in sports such as Football, Volleyball and Handball, I see no reason why athletes won't look to play 7s in the future, especially when there are Olympic opportunities.
– Do you have anything to add or anyone to thank?
I would especially like to thank Flavio Santos and Joao Nogueira from the Brazil Rugby Union. I would also like to thank all the countries that were involved in the visit.