Sports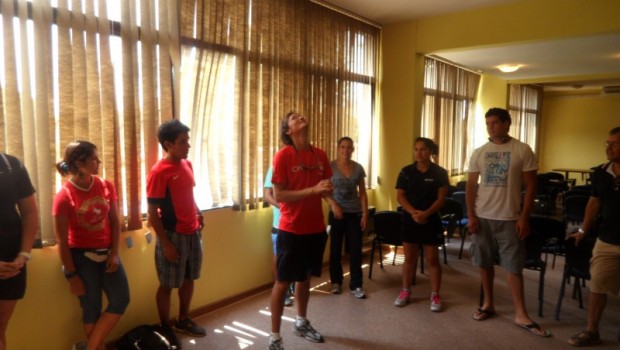 Published on December 30th, 2013 | by Daniel Boyle
1
13 in 2013 – The Year in Chilean Sport
2013 was a mixed year for Chilean sport, but there is no doubt that there is progress on the Chilean sporting scene. Every week there seems to be more and more people out running, cycling or being active. Chile had success with three world titles, two of them earned on home soil.
Here are 13 moments that marked the Chilean sporting arena in 2013. Many publications have done similar end of year reviews, with many of the people commenting pointing the blame for why some sports are lesser known. That in itself is an intriguing question. The biggest problem, and something that Sport/Life hopes to help solve, is the complete lack of information.
Again and again we see results of events that were never advertised, or if any of you tried to go to the World Water Ski Championships, in which a Chilean took gold, you would know all about this absolute lack of information.

Chile had success at the World Water Ski Championships on home turf.
Photo: Paula Mattos
1. Felipe Miranda wins Overall World Water Ski Championships
Now, the biggest moment without a doubt was Chile's qualification for the World Cup in Brazil. However, that is only a qualification. The three Chileans with world titles to their names this year deserve to be ahead of that effort.
The Miranda family is a well known name in water skiing, and Chile hosted Worlds on the lake which was built by Señor Miranda, showed perfect conditions for the competitors. The location, just outside of Nos, a little to the south of Santiago, was not the easiest to get to. And the publicity was practically non existent. That might have been to keep the "riff raff" away from the lake, but doesn't help increase the crowds.
This list is not in order of value, but as Miranda was the winner of the Circulo de Periodistas Deportivos award, he can take the number one spot.
2. Cristián Valenzuela wins IPC World Championship
Cristián Valenzuela is well on his way to becoming one of Chile's most successful athletes of all time. He defended his marathon World Championship title, as well as taking to further silver medals (1,500m and 5,000m). This followed his 2012 Paralympic gold medal. Valenzuela was recognized by the government for his sporting efforts.
3. Carolina Rodriguez takes World Boxing Title
La Crespa took the world title in Constitución, defeating Venezuela's Ana Maria Lozano. She will look to defend her title on January 18, though Argentina have been inquiring if she would like to change nationalities, though she has said she's not interested. Like many of Chile's athletes, the boxer has struggled to find funding to train at an elite level.
4. Chileans shine in Dakar Rally
Chile had two racers on the podium in the Dakar, with Ignacio Casale finishing in second place in the quads, while Francisco "Chaleco" López finished third in the motorbike event. Once again the major motorsport event will finish in Chile, with the 2014 event coming to a close in Valparaíso.
5. Chile creates Ministerio de Deportes
While Chile's Ministry of Sport took longer than hoped to become a reality, with members of the opposition choosing to play a defensive game, the Ministry of Sport will ensure a closer connection between the President and the sporting bodies. The law which should improve things for Chilean athletes, due to come into effect in January is the law to professionalize sporting federations. The lack of professionalism from federations, including various infighting between different federations has only been a detriment to Chilean sport.
Gabriel Ruiz-Tagle, who oversaw Colo Colo before moving into the role as Subsecretary for Sport, was named by President Sebastián Piñera as the first Sports Minister. Among the names suggested as possibilities for the new government are Jaime Pizarro, Harold Mayne-Nicholls and Carlos Caszely.
6. Chile qualify for World Cup
At the end of 2013, Chile's qualification looked far from likely. Since Jorge Sampaoli took over from Claudio Borghi, Chile have only registered losses against Peru and Brazil, finishing third in the qualifying. Arturo Vidal and Alexis Sánchez were found at their best, while Eduardo Vargas managed a record breaking streak, scoring in six consecutive matches.
7. Christian Garín takes Junior title at Roland Garros
Christian Garín showed he is a player for Chile's future, making his ATP debut in Viña del Mar with a victory. 2013 saw the young player rise from 924 up to 388 on the ATP rankings. The junior title at the French Open ensured that he, along with other young players like Gonzalo Lama and Nicolas Jarry will be important to watch in the future.
8. Santiago Saints fundraiser a great success
While this wouldn't not make this kind of list on many publications, this match showed an important building block for a new sport in Chile, as well as for relations between the expat community and sport. Sport/Life was a part of making the day happening, a great experience. The day also showcased the development of the junior program which begun in 2013. Once again, the Santiago Saints raised approximately AU$10,000 through auctions, raffles and sales of food and drink.
9. DAR Chile brings athletes together
This has been an important development, which has seen the athletes presenting a unified front. Sport/Life was involved with the athletes early in the year, giving some English classes, while the group has grown from strength to strength and become a truly representative force. This has already been recognized, with the group being brought in to the operations of the Ministerio de Deportes.
10. 2019 Pan American Games bid
While hope in Chile was high, many international pundits had Lima, who lost the 2015 bid to Toronto to take the games for 2019. Even a member of the 33 miners was not convincing enough for the Pan American committee, with Chile finishing with only 9 votes.
The 2014 South American Games will be a chance for Chile to show their credentials for the following Pan American Games bids, but it will have to be a job well done if Chile want to use the event as part of their next bid.
11. First National Games
While the original idea was to send this event to the regions, Estadio Nacional was the host to an almost empty stadium. In what was the perfect chance to test arrangements for the South American Games, Chile hosted a major event, only for barely anyone to know it even existed. The signage was completely lacking, with the first signs appearing once somebody had appeared inside the stadium facilities.
On the track, a surprise loss was that of Isidora Jíminez, who had beaten the Chilean records in the 100 and 200 metre sprint races.
12. Juan Carlos Garrido breaks world record
Despite competing in the under 59 kg division, Chilean Juan Carlos Garrido broke the IPC powerlifting weightlifting record with an enormous lift of 181 kg. This beat the previous mark, created by Russian Liddiar Bedderdinov with 175 kg, by 6 kg. Like Valenzuela, Garrido will be a key to Chile's performance at the first ever Para-Sudamericanos.
13. Leonardo Farkas contributing to Chilean sport
A recent "Twitter war" has erupted between El Grafico's Soledad Bacarreza and María José Mailliard (C2 canoe) after comments that Bacarreza had made in a September column in El Grafico. The column was an offer to act as an "assessor" to the philanthropist, claiming that at times he was sending money to the wrong people.
Among those who have been supported by the mining magnate are Tomás González, Kevin Silva, Daniela Seguel, Cecilia Costa and Manuel Conejeros, among others, with thousands of dollars in support.
These are not the only moments from Chilean sports, but the list gives a snapshot at a wide variety of events throughout the year. Sport/Life will continue to be in tune with the world of Chilean sports, as well as offering a funding opportunity for athletes from Chile and around the world.