Sports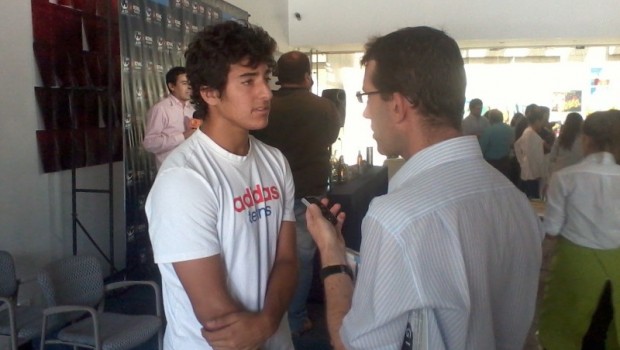 Published on April 16th, 2014 | by John Lyons
0
Sad seven couldn´t rise to the challenge
The first round of the Santiago Challenger proved to be the last round for seven of the nine Chileans in the tournament.
Las Condes – Hopes were high for good results from the home players at Club Palestino, but it didn´t turn out that way as they were quickly sent packing.
Probably the biggest disappointments were yesterday´s defeats for Davis Cup duo Gonzalo Lama and Christian Garín.
Lama (301) was unlucky to come up against Australia´s James Duckworth (158), the fifth seed, and lost 6-4, 6-4.
The 20-year-old said: "My game didn´t function and a player like him doesn´t pardon you. I´m very annoyed with how the game went."
Meanwhile, 17-year-old Garín (400) suffered a 7-6 (4), 6-2 defeat against Argentina´s Pedro Cachin (454).
Another faller yesterday was wild card Matías Sborowitz (792), who went down 6-3, 7-6 (8) against Ecuador´s Emilio Gómez.
The story hadn´t been much different on Monday. Fellow wild cards Nicolás Jarry (615) and Bastián Malla (667) couldn´t overcome the first hurdle of the US $40,000 tournament.
Jarry lost to Italy´s Gianluigi Quinzi (351) 6-4, 6-4, while Malla was beaten 6-3, 6-3 by Holland´s Thiemo de Bakker (151).
The experienced Jorge Aguilar (462) came through qualifying to reach the main draw, but suffered a 7-5, 7-6 (5) defeat at the hands of the Dominican Republic´s José Hernández (295).
The other Chilean to make an immediate exit was wild card Guillermo Núñez (681), but the silver lining was that he lost to compatriot Paul Capdeville.
Chilean number one Capdeville (245) raced to a 6-1, 6-0 success. However, he faces a much tougher task in today´s second round as he takes on Lama´s conqueror, James Duckworth.
The other Chilean through to round two is Hans Podlipnik (251). Chile´s number two saw off Bolivia´s Hugo Dellien (308) 7-6 (8), 6-1. Podlipnik will have to be at his best to win his second round match tomorrow as he comes up against tournament top seed Denis Kudla (109).
The American eased through with a 6-3, 6-2 victory against Brazil´s Wilson Leite.