Football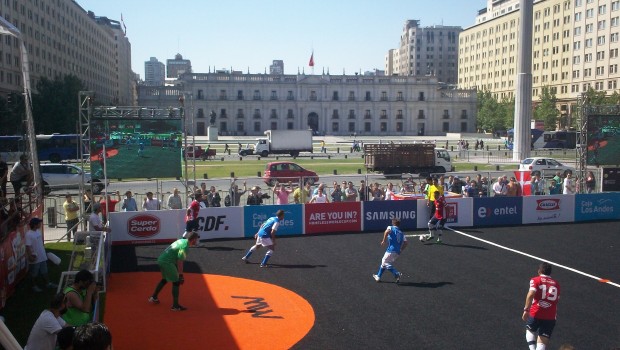 Published on October 25th, 2014 | by John Lyons
0
Red-hot Chile through to Homeless World Cup finals
Hosts Chile will seek a Homeless World Cup double when the finals take place tomorrow.
Big crowds have turned out throughout the week to support all the teams in the Cup – and the home sides have given them plenty to cheer about.
In Saturday´s semi-finals, Chile´s men and women both beat Brazil to book their place in the final.
The men were in action first and won a thriller 8-7 against the Brazilians. It looked as though the women would struggle to match their achievement when they trailed 1-0 to Brazil at half-time in their semi.
However, they produced a stunning second half comeback to triumph 4-1 in a hard-fought match. Captain Denise Silva kept her cool to score two penalties as la Roja powerered home.
She said: "I´ve very happy to be in the final. This is what we´ve worked for, but we haven´t won anything yet. Tomorrow, we´re going to give it our all in the final."
The men face Bosnia & Herzegovina in their final. B&H edged out Poland 5-4 in the semi-finals.
Meanwhile, Chile take on Mexico in the women's final. Mexico thrashed Hungary 13-1 in the second women's semi.
In Saturday's earlier quarter-finals, Chile´s men overcame Holland 4-3 in a nail-biter, while the women had an easier time, defeating Wales 13-0.
The men´s quarter-finals all proved to be thrillers won by the odd goal. Poland beat Namibia 8-7, Brazil edged out Russia 9-8 and Bosnia & Herzegovina pipped Portugal 4-3.
In the women's last eight, Brazil beat Holland 5-1, Hungary saw off Argentina 5-2 and Mexico demolished England 12-1.
However, it hasn't all been about winning matches. The sportsmanship of the 66 competing nations has caught the eye.
Win or lose, there is plenty of mutual respect and the teams join together at the end of each match to salute the supporters.
When a high-quality Brazil women's team beat a gallant Wales side 10-1 in the group stage, the Welsh gave them a guard of honour and applauded them off. Brazil were quick to repeat the gesture.
Over the course of the sun-drenched week, thousands of football fans have turned up to watch a multitude of matches. The impressive backdrop of the presidential palace, La Moneda, makes for a spectacular setting.
Naturally, the support has been most fervent for the home side and they´ve made it a carnival atmosphere when la Roja have played.
With the finals taking place tomorrow, bumper crowds will again be expected – and hopes will be high for Chilean victories in both the men's and women's ranks.