Football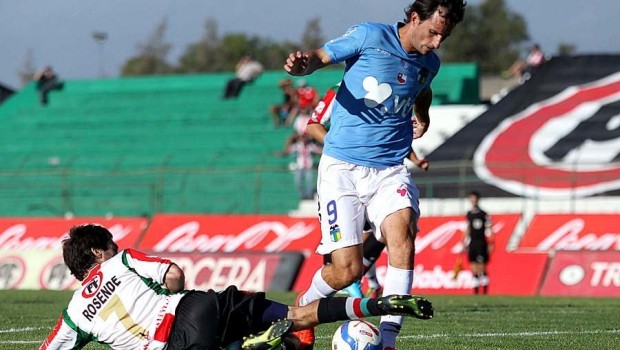 Published on April 16th, 2014 | by John Lyons
0
O'Higgins and Unión lead way for all-star team
The players' union have named a strong side for this evening's charity football match against Colo Colo in aid of those affected by the devastating fires in Valparaíso.
Macul – The ´Selección Sifup´ will include four players from O´Higgins, three from Unión Española, two from Universidad Católica and one apiece from Santiago Wanderers and Universidad de Chile.
O´Higgins goalkeeper Paul Garcés will be between the sticks, while the defence will be made up of Moisés Villarroel (Wanderers), Enzo Andía (Católica), Jorge Ampuero and Sebastián Miranda (both Unión).
The midfield places have gone to Braulio Leal, Luis Pedro Figueroa (both O´Higgins), Gonzalo Villagra (Unión) and Milovan Mirosevic (Católica), while Pablo Calandria (O´Higgins) and Sebastián Ubilla (Universidad de Chile) will play up front.
The team will be managed by the legendary Elías Figueroa and face the newly crowned Clausura champions for the Copa de la Solidaridad.
The match kicks off at 7.30pm and will be followed by the Copa Chile final between Deportes Iquique and Huachipato at 9.30pm.
A bumper crowd will be expected to turn out at the Monumental on the fundraising night.
Meanwhile, basketball is also doing its bit to help those affected by the fires. Colo Colo, Municipal Quilicura, Sportiva Italiana and Club Árabe will play a charity four-team tournament at the Arlegui gymnasium at Viña del Mar on Friday.
The action gets under way at 10am and tickets cost $2,000 with spectators also asked to bring along useful items like bottled water.
The full programme of matches is: 10:00 Arabe vs Sportiva, 12:00 Colo Colo vs M. Quilicura, 14:00 Sportiva vs Colegio Apumanque sub-15, 15:30 PUCV vs New Crusaders sub-18, 17:00 Men´s losers, 19:00 Men´s winners.
The full ´Selección Sifup´ squad is: Universidad de Chile: Luis Marín, Roberto Cereceda, Sebastián Ubilla, Patricio Rubio. O'Higgins: Paulo Garcés, Braulio Leal, Luis Pedro Figueroa, Pablo Calandria. Unión Española: Gonzalo Villagra, Jorge Ampuero, Sebastián Miranda, Óscar Hernández, Carlos Salom. Universidad Católica: Enzo Andía, Milovan Mirosevic, Fernando Meneses, Claudio Sepúlveda, José Luis Muñoz. Palestino: Felipe Núñez, Felipe Campos, Alejandro Carrasco, Sergio López, Claudio Latorre. Santiago Wanderers: Jorge Ormeño, Andrés Robles, Moisés Villarroel, Juan Abarca, Nicolás Canales, Boris Sagredo, Gastón Cellerino, Leonardo Valencia. Primera B: Miguel Ángel Romero (Magallanes), Carlos Cisternas (Magallanes), Cristián Reynero (Barnechea) and Gonzalo Lauler (Barnechea).