Tennis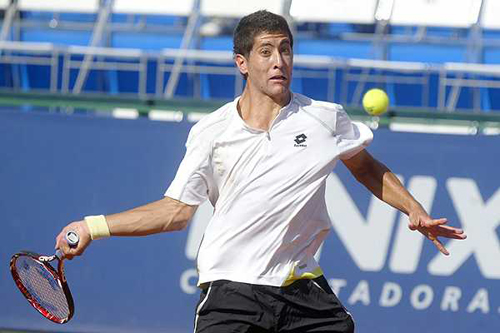 Published on April 21st, 2014 | by John Lyons
0
It´s official – Hans takes over at the Summit
His week didn´t end the way he wanted, but at least Hans Podlipnik is officially the new number one of Chilean tennis.
Las Condes – A back injury forced the 26-year-old to pull out of his Santiago Challenger semi-final against James Duckworth with the score tied at 4-4 in the first set on Saturday.
It brought an abrupt end to a fantastic week for Podlipnik, who had beaten top seed Denis Kudla on his way to the semi-finals.
However, the silver lining is that Podlipnik has brought Paul Capdeville´s three-year reign as Chile´s number one to an end.
He has risen 27 places to 224 in the world rankings on the back of last week´s efforts, while Capdeville, who lost in the second round to Duckworth and is on the verge of retirement, slipped one place to 246.
It´s a deserved reward for Podlipnik, who has journeyed through many of the world tennis backwaters on the futures circuit to eventually become the top-ranked player in his homeland.
He said: "I take it with humility because it isn´t the same to be the number one now with a ranking of two hundred and twenty something compared to five or six years ago when you had to be in the top 50.
"However, I´m proud of the achievement because it has cost me a lot to get there."
The low-profile Podlipnik, who has an Austrian father and Chilean mother, is a Greenpeace supporter and spends his winters in Estonia, where he lives with his girlfriend, Bárbara.
Gonzalo Lama is the third best Chilean in the rankings at 296, up five places, while Cristobal Saavedra is at 401. Christian Garín lies 402nd and Ricardo Urzua is 407th. The experienced Jorge Aguilar has suffered a fall of 35 places to 497.
Meanwhile, it was Holland´s Thiemo de Bakker (151) who won the Santiago Challenger at Club Palestino. De Bakker came through from the qualifying rounds to take the crown.
In the final, the Dutchman beat Duckworth (158) 4-6, 7-6 (10), 6-1. Duckworth had been the scourge of the Chileans in the competition, knocking out Lama, Capdeville and Podlipnik en route to the final.