Football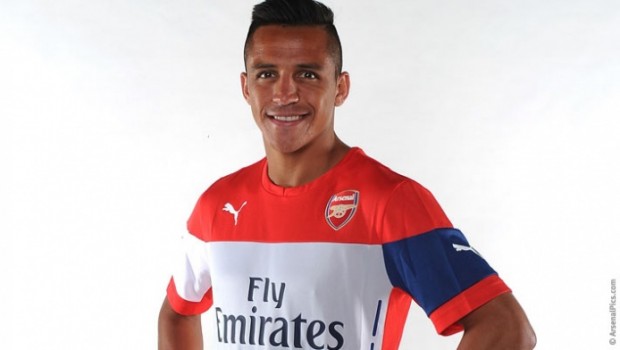 Published on July 10th, 2014 | by John Lyons
3
Now it's Alexis of the Arsenal
All the speculation has come to an end – Alexis Sánchez has left Barcelona to sign for Arsenal.
On the back of an excellent World Cup and with his chances at the Nou Camp likely to be limited, it´s no surprise the Chilean mega-star has decided to move on.
Italian giants Juventus were linked with the 25-year-old for many months, but it´s finally the Gunners who put the money on the table to take him to the Premier League.
It's another exciting challenge for the speedy striker, who has already played in his native Chile, Argentina, Italy and Spain.
It is believed that Sánchez has arrived for a transfer fee of US $52million on a four-year contract. As well as aiming to win the Premier League, the Chilean can also look forward to Champions League action at the north London club.
Speaking to www.arsenal.com, the former Colo Colo and River Plate forward said: "I'm so happy to be joining Arsenal, a club which has a great manager, a fantastic squad of players, huge support around the world and a great stadium in London.
"I'm looking forward to meeting my new team-mates and to play for Arsenal in the Premier League and Champions League. I will give my best for Arsenal and want to make all the supporters happy."
Sánchez scored against Australia and Brazil in the World Cup and turned in an excellent series of displays for la Roja. That was enough to convince Arsenal boss Arsene Wenger to splash the cash.
He said: "As many people have seen during the World Cup this summer, Alexis is a fantastic footballer and we are delighted that he is joining us at Arsenal.
"Alexis will add power, creativity and a lot of quality to our squad and we are all looking forward to him joining up with us in a few weeks. He has consistently produced top-quality performances at the highest level for a number of seasons now and we are all excited to see him integrate into the Arsenal squad."
While Sánchez prepares for his English adventure, left winger Jean Beausejour is leaving the country. The 30-year-old´s contract finished at Wigan Athletic and he is set to finalise a move to Chilean champions Colo Colo.
Beausejour recently made history by becoming the first Chilean to score in two World Cups. After netting against Honduras in South Africa in 2010, the left-sided player came off the bench to score against Australia in Brazil.